Where To Find Our Mags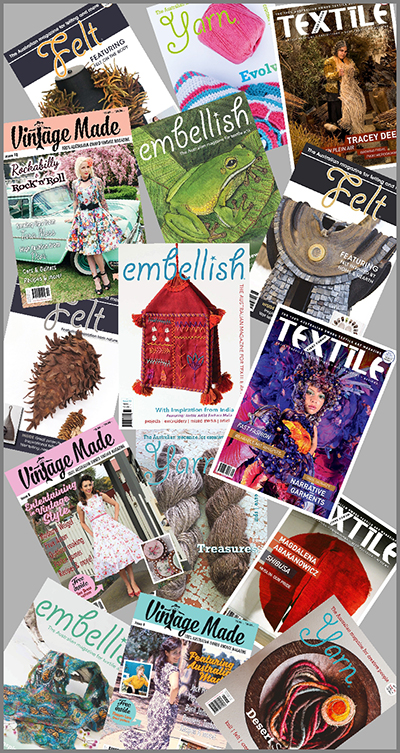 In Australia Yarn, Felt, Embellish, Textile Fibre Forum & Vintage Made magazines are available through newsagents, as well as through select craft stores and book suppliers, some Guilds (see below) and online through this website.
If you are having trouble locating any of our publications, please call on (03) 9888 1853 or click on the red links below.
Our distributor to newsagencies within Australia is Ovato (Are Direct). If you don't see our titles displayed in your newsagent, please ask for them. They may be "in stock" but not out on display yet. If you wish to get your magazine(s) through your local newsagency and they do not already stock the magazine(s) you are after, please ask your newsagency to order them in.
In USA and Canada, Felt and Embellish magazines are distributed via Disticor.
In UK (and parts of Europe) Yarn, Felt, Embellish, Vintage Made and Textile Fibre Forum magazines are available through Manor House Magazines.
In New Zealand, Yarn, Felt, Embellish, Vintage Made and Textile Fibre Forum magazines are distributed by Ovato (Are Direct).
Our international distributors make our magazines available via newsagents, craft stores and book stores – if you would like to stock the magazines in any of these (or other) countries, contact the relevant distributor (or us).
We also have a number of craft stores, art galleries, small independent retailers, and cottage industry farm-gate sellers who sell our magazines. If you are not a current subscriber and would like to support your local supplier, please do so using the following list (click on the red links). If the seller does not stock the magazine title you are after, they would be pleased to arrange this for you for the next issue – so do let them know.
As a small, independent company ourselves, we appreciate your support.
This list may change, as COVID has put a different spin on things…however, the businesses below will be able to order in the magazines for you if not in stock.
Arts & Crafts Society NSW: Sydney NSW – Textile Fibre Forum magazine
Australian Needle Arts: Mackay QLD – Yarn, Felt, Embellish, Textile Fibre Forum and Vintage Made magazines
Bendigo Woollen Mills: Bendigo VIC – Yarn magazine
Bilby Yarns: Perth WA – Felt magazine
Canberra Region Feltmakers: Canberra ACT – Felt magazine
Can Do Books: Melbourne VIC – Yarn, Felt, Embellish, Textile Fibre Forum, Vintage Made magazines
CJ's Yarn Place: Mount Gambier SA – Yarn magazine
Fantazia Fabric Land: Tweed Heads NSW – Felt, Embellish and Vintage Made magazines
Feltwilde Studio: Sydney NSW – Felt magazine
Genesis Creations: Toowoomba QLD – Embellish and Textile Fibre Forum magazines
National Gallery of Australia: Canberra ACT – Textile Fibre Forum magazine
National Wool Museum: Geelong VIC – Yarn, Felt and Embellish magazines
Port Fairy Textiles: Port Fairy VIC – Yarn, Felt, Embellish, Vintage Made and Textile Fibre Forum magazines
Sturt Craft Centre: Mittagong NSW – Textile Fibre Forum magazine
Salamanca Wool Shop: Hobart TAS – Yarn magazine
The Felt Studio (Wendy Bailye): Brisbane QLD – Felt, Embellish and Textile Fibre Forum magazines
The Lucky Ewe: Oatlands TAS – Felt, Yarn and Textile Fibre Forum magazines
The Thread Studio: Perth WA – Felt and Embellish magazines
Warwick Art Gallery: Warwick QLD – Yarn and Textile Fibre Forum magazines