Australian Fibre Art Award (AFAA)
The Australian Fibre Art Award is a biennial juried non-acquisitive award of $2000 being run, for the first time, in 2021.
Contemporary fibre artists, working in any style of media, from across Australia are invited to enter.
The artworks chosen as finalists will be exhibited in an exhibition in 2021 as well as being part of a limited-edition accompanying book.
In addition to the $2000 AFAA, sponsored by ArtWear Publications, there now three other non-acquisitive prizes, each of $500 –
Judges' Highly Commended (Sponsored by ArtWear Publications)
Excellence in Felt (Sponsored by Gentle Roller Co.)
Viewers' Choice (Sponsored by ArtWear Publications )
Important Dates :
The following dates may change due to COVID-19 lockdowns in Sydney:
4th September to 3rd October 2021 Exhibition dates, Gallery76 – will be totally online due to lockdowns.
4th September Exhibition opening and announcement of AFAA winner – The Exhibition opening is now an online event – book HERE
From close of exhibition to Tuesday 12th October 2021 – pick up / return of artworks
Our judges for AFAA 2021:
Rie Natalenko – Editor of Yarn magazine, Rie is a passionate craftsperson: felting, working with textiles, knitting, sewing, crochet, appliqué, fabric painting, embroidery, spinning, weaving. Rie has a doctorate in creative writing and is also an educator. She is the face behind "The Write Impression".
Denise Stevens – In Denise's words: 'After a long and satisfying scientific career, during which I was also actively involved in the textile arts as another creative outlet, I now only pursue my fibre passions, particularly in weaving. My primary interest is in tapestry weaving but I also weave on multi-shaft looms and occasionally with basketry materials. Each presents its own challenges and delights.'
Liz Williamson – Liz is a weaver, academic and textile artist based on Gadigal and Wangal lands of the Eora nation in the Inner West of Sydney. With her practice spanning 40 years and work in numerous public collections, she is still fascinated with the process and potential of interlacing two sets of threads on her loom. Liz has been involved in education for 30 years and is currently an Honorary Associate Professor, UNSW, Sydney.
(Click the red links to see more of Rie and Liz – Denise does not have an online presence)
BOOK OF THE AFAA 2021 FINALISTS:
The book showing all finalists' artworks (including information about each artwork and an artist's statement), plus information about our judges and some of their artworks may be purchased HERE.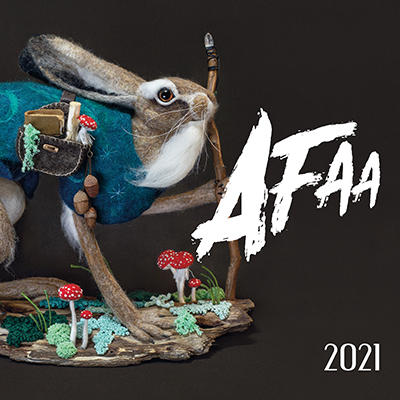 Don't forget to like and follow the AFAA Facebook page.
Virtual Tour of the AFAA 2021 exhibition:
Check out the virtual tour of the AFAA 2021 exhibition HERE.
AFAA 2021 Results:
AFAA 2021 Winner: CATHERINE O'LEARY (sponsored by ArtWear Publications)
AFAA 2021 Judges' Highly Commended: JOY DENISE SCOTT (sponsored by ArtWear Publications)
Excellence in Felt: DENISE LITHGOW (sponsored by Gentle Roller Co.)
Viewers Choice: JESSICA SMITH (sponsored by ArtWear Publications)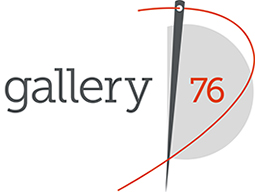 Gallery76 is a public exhibition space located on street level of the Embroiderers' Guild NSW Inc. headquarters. The building has been recently redeveloped into a three story 'Centre of Excellence for Embroidery and Textile Arts', containing multiple gallery spaces and several workshop areas. The mission is to connect community, whilst promoting the creation and education of Fibre Art.
Our Sponsors:

ArtWear Publications Pty Ltd
Publishers of Australia's own well respected craft and lifestyle magazines: Embellish, Felt, Yarn, Textile Fibre Forum and Vintage Made.

The Embroiderers' Guild NSW Inc.
Encouraging the art of embroidery with a high standard of design and technique, the 'Guild' is a not-for-profit membership body for anyone and everyone who loves to stitch or would love to learn. People of all ages and walks of life join the Guild for all sorts of reasons: following their creative urge; mastery of a new skill; a love of traditional crafts; memories of learning from family members; the company of like-minded people – just to name a few!

Gentle Roller Company
The Gentle Roller is a new device for an ancient craft – a wet felt rolling machine invented for fibre artists of the 21st Century. It is a break-through in the exhausting and repetitive process of hand rolling, helping you to create better felt or nuno felt — without hard work. The Gentle Roller has a patented oscillating (forward and backward) action, replicating the action of hand rolling. This compact, safe, and attractive tool will complement your studio and work quietly beside you, freeing you for more important activities like planning your next piece or enjoying a well-earned break.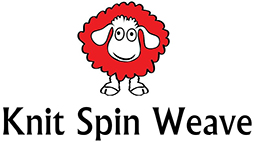 Knit Spin Weave
Marlyn Alpaca
Snowy Creek Engineering
The Thread Studio