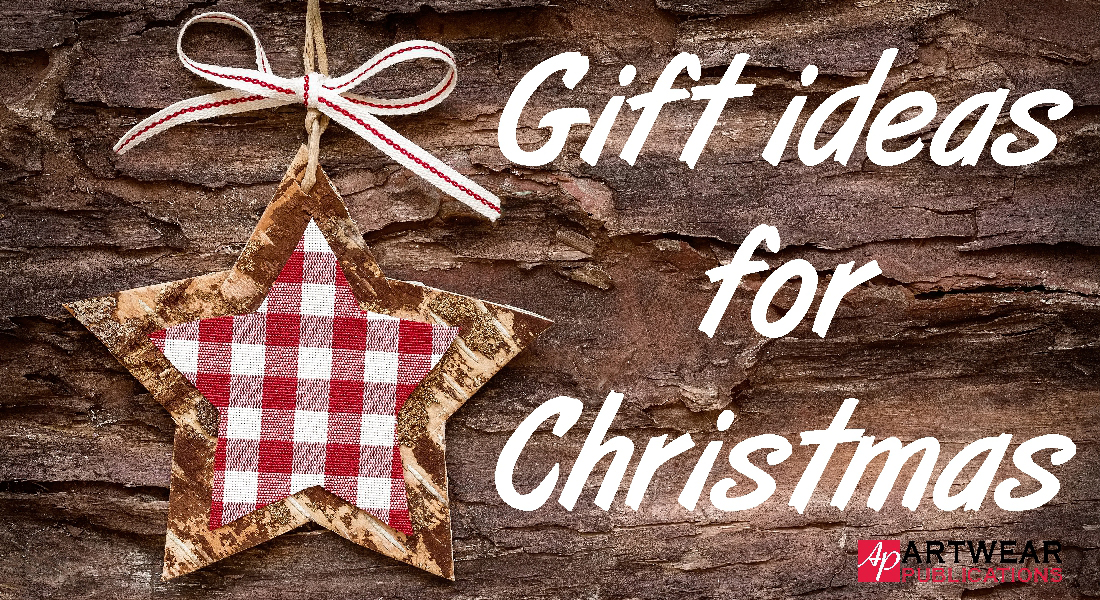 22 Nov

Gift Ideas for Christmas

We have some wonderful suggestions for Christmas gifts which we think you'll like – click on the business names or active links (coloured red) for more information. They are arranged in no particular order, so make sure you scroll all the way down so that you do not miss any!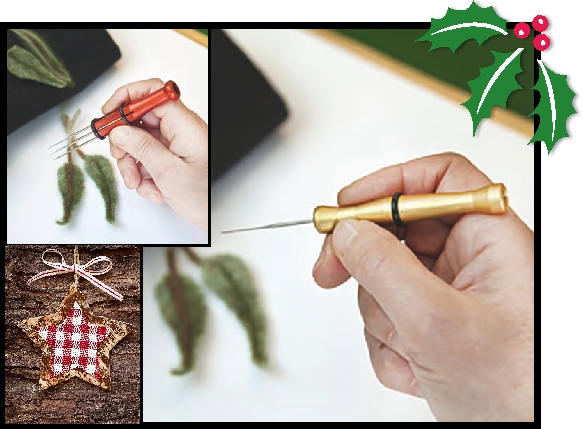 Needle felting tools that the professionals use – easy, fast, safe needle changes.
Snowy Creek Needle Felting Tools are unique precision machined light-weight aluminium tools for all your hand felting work.
Multi needle: holds 1-6 needles in any configuration – all needles are held exaclty parallel. The tool's unique roll resistance means it stays where you put it without rolling off the table.
Single needle: precision centred tip.
Our ergonomic design ensures that the tool fits the user's hand comfortably, with the entire needle shank held within the tool, providing the shortest distance between fingers and felt. Requiring minimal gripping effort, this tool provides you with the highest level of control and precision in your work. Click HERE for more information.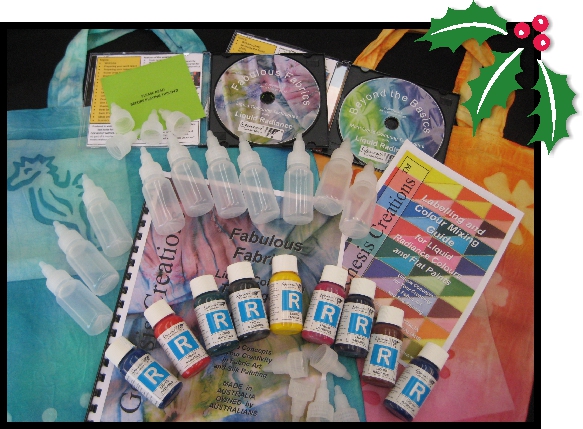 A gift idea for that special creative person – or for yourself ☺
Purchase a set of Liquid Radiance colours at a special discounted price in November and December, and we'll pop in our two instructional DVDs FREE as our gift to you. Let us know your favourite colours, and we'll enclose your goodies in a hand-coloured bag, also for FREE. Total value of package $213.30. You'll pay just $160.00 when you mention the special code 'EMB18' to claim your extra gifts when you place your order. Contact Anne HERE – we'll need to know your name and address, and how you'd like to pay.
This is a perfect way to give someone the pleasure of learning fabric designing the safe, simple way using Australian made products that are so economical to use you won't believe it! The DVDs and handbook will guide you through a huge range of techniques in a very hands-on way. DVD programs are divided into lessons so you can click on the topic you want to learn without having to hunt for it – Anne's 'former life' as a high school teacher has enhanced her ability to present an informative and relevant workshop program. It's the perfect way to learn if you can't attend the programs face to face, or a wonderful way to 'brush up' after hands-on workshops.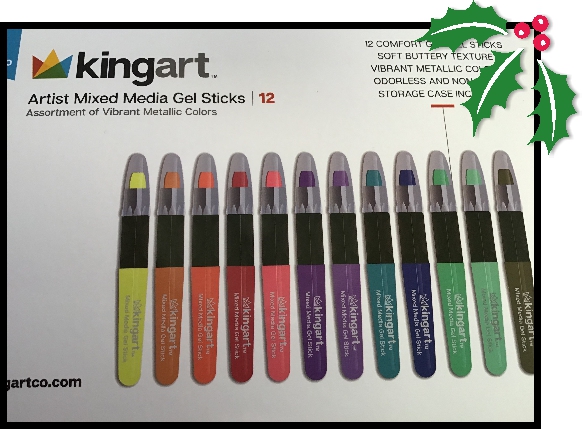 Check out these fabulous Kingart Artist Mixed Media Gel Sticks!
12 comfort grip gel sticks of soft buttery texture – vibrant metallic colours, odourless, non-toxic – storage case included. They are fabulous gel sticks – blend and use on all surfaces – on fabric with a medium over the top.
Available via The Thread Studio's Virtual Verandah (search for Kingart) at a special price, and soon on the main website (at normal price).
If you're looking for a gift for the Crafty person in your life, the Earth Palette Wool & Silk Dye Kits are perfect for first time dyers to try their hand at dyeing. Everything is included to get them started, and there's no heat required!
For the month of December we have 20% off these Kits
For more information click HERE.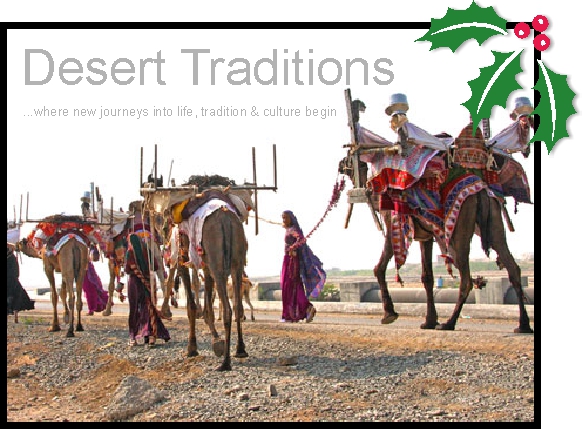 Textile artist, Carole Douglas, provides small group guided tours to India and beyond. Carole has a long history of travel, the arts and social and environmental advocacy. She works with textile artisans on product development and arranges events in India and abroad to promote their work. Programs are designed to bring about beneficial change for people, place and the planet.
When you travel with Carole you will go to places you never thought you would and meet people and artisans who are special to Carole.
Contact Carole via her website for more information HERE.
Here's a perfect Christmas gift for you. The book, Maria – Voyages in Design Art to Knit by Island Imprints ($49.95), celebrates the nature around us, the colours of Tasmania and the design and knitting skills of Prue Hutton and Sally Ord. They have taken their love of Maria Island and created this inspiring book. Maria truly demonstrates the link between an artist's viewpoint and using yarn to design a garment for wearing that has associated memory of place and nature. All from a walking/camping trip to Maria Island.
The book contains seven designs – shawls, hats, jumper, cardigan. Sizing ranges from child to adult.
For more information click HERE.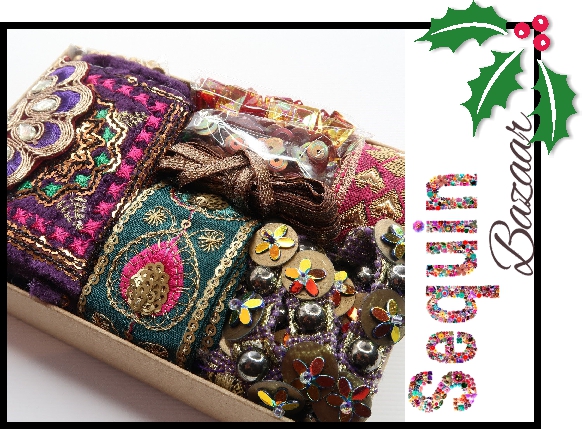 It is always with excited anticipation that I head to Old Delhi on the metro, emerging up on the escalator into the chaotic busy narrow streets, past small temples, beggars, footpath shops selling all sorts of cheap goods or just a pair of scales for you to check how much weight you have put on with that last delicious meal! After crossing the busy thoroughfare of Chandi Chowk its back into the narrow laneways around Kinari Bazaar. The array of gorgeous bling available is mind boggling– it is hard to know where to start but so pleasurable to be surrounded by shops overflowing with gorgeous beads, sequins, gems, bright coloured braids, hanks of gold cord, tassels and baubles. Taking a shopping list is a must as its so easy to be tempted and get carried away with buying everything else. Of course one visit is never enough and returning a few times means venturing further afield into the side lanes or back to get what you have forgotten. We have just returned from a trip to India so of course have a lot of lovely new goodies. Now our stash ash been replenished we will be making up some more of our little gift boxes in time for Christmas. Each colour-themed box contains a selection of gorgeous braids, motifs, sequins, beads, shisha and bling making the perfect Christmas gift for a creative friend or relative (or as a treat for yourself!). Click HERE for more information.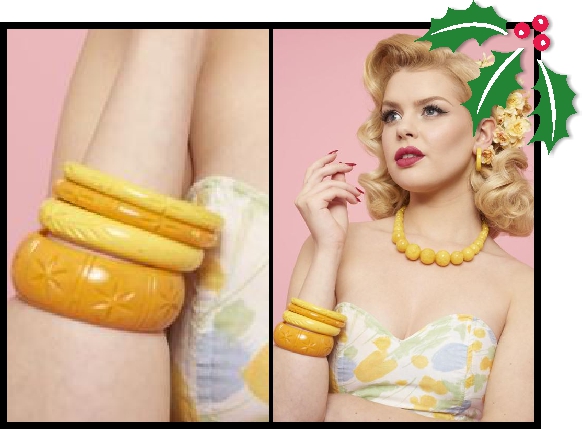 Splendette: A Modern Take on Vintage BAKELITE
At Wild Lace we love Splendette: 'Mid-century inspired jewellery for modern day kittens', because who doesn't need ways to treat themselves to pretty things!
Splendette take inspiration from 40s and 50s jewellery and design using modern day materials; think bangles, statement necklaces, as well as earrings and brooches to match of course!
Wild Lace's curated collection sees classic styling, with a little bit of glitter girl thrown in the mix. You can wear pieces as a set or as standalone to go with different outfits.
I've already got a little shopping list for Splendette and have my eye on the bright yolk heavy carved bangle and hoop earrings, perfect colours for the summer season… what will be on your shopping list?
You can check out our Splendette collection via HERE or at up-coming 2019 festivals such as The Lady Luck Festival and Kurri Kurri Nostalgia Festival.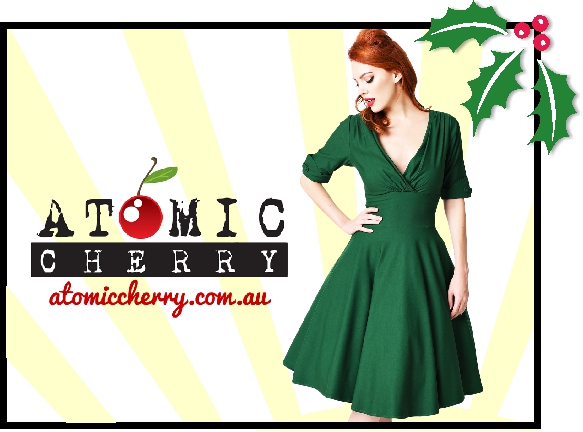 Looking for vintage Christmas Party outfits? Atomic Cherry has some great outfits on offer for you – click HERE for more information. There are some fantastic accessories as well. Let's get you looking even more wonderful for your Christmas parties ☺
WAFTA is offering a voucher to the value of $65 and for regional, concession and students a $55 voucher for an Annual Membership.
We also have a $100 and a $200 voucher that can be a gift towards a WAFTA Workshop.
Conditions apply.
For further information please go to the website HERE and follow the links.
Book a workshop in the Grampians at Grampians Texture for a special gift: 2, 4 and 6 day workshops in a range of textiles subjects available. Check out the website HERE for more information.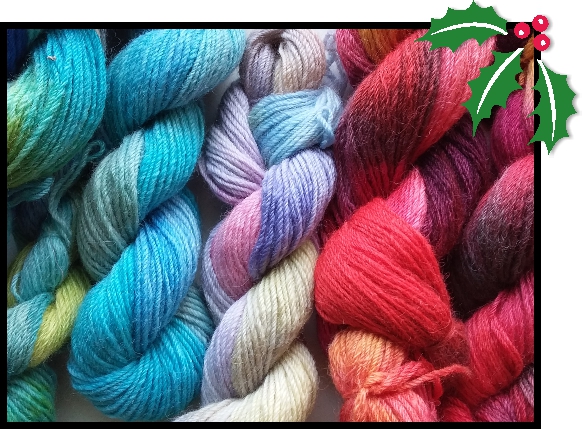 A Special gift for a 'Real' Knitter.
Do you know someone who is a 'real' knitter – that is, who gets great pleasure from knitting, from yarns, natural fibres and textiles – or perhaps you are one yourself?
This year knitalpaca has developed a great gift for such people – The 'REAL' Knitter's Box contains around 100g of luxurious knitalpaca yarn, information about alpaca yarns, a pattern suggestion for the yarn and a discount voucher for a subsequent purchase, all presented in a lovely gift box. It's a gift which should quicken the heart rate of people who love yarn and knitting.
There are three luxurious choices:
'Colouratura' Real Knitter's Box: 100g hand dyed suri alpaca in vibrant or muted tones (sample yarns shown here).
'Ultima' Real Knitter's Box: 100g fine suri/huacaya alpaca blended with kid mohair in glowing white.
'Cashpaca' Real Knitter's box: 100g of Australian cashmere blended with soft black alpaca. Steel grey.
The cost of any Real Knitter's Box is $38 plus p&p. Order through the knitalpaca web site HERE.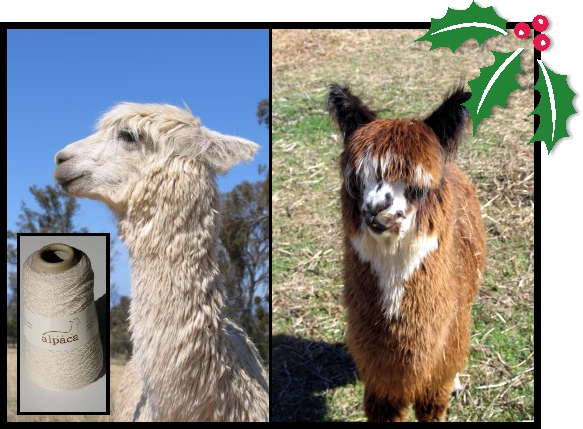 Suri Alpaca Yarns: Since the warmer weather is coming up, I think it's time to mention Suri for Summer.
Did you know that Suri alpaca feels cooler to the skin than huacaya alpaca?
What's the difference?
Well, the rare Suri alpacas have fleece which hangs in dreadlocks, whereas the more common fluffy huacaya alpacas have a more sheep-like fleece. The differences can be seen right down to the electron microscope scale! Suri yarn is more lustrous and its high density lets it drape beautifully, perfect for summer evening wraps. For a free pattern, have a look on Ravelry, or be daring and use a cotton pattern!
Marlyn Alpaca have some interesting natural colours in Suri balls, skeins or cones. Click HERE for more information.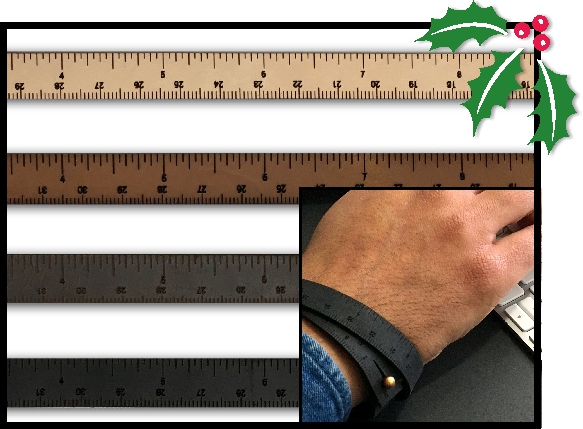 Wrist Ruler is a leather wristband with engraved inch and centimetre measurements. If you find yourself always needing to measure things when you're on the go, this is the perfect product for you. Wrist Ruler comes in a round metal case – perfect for storing stitch markers and other knitting accessories.
Made in the US in small production runs, length 16″ and available in Natural, Medium Brown, Dark Brown and Black.
For more information or to purchase, click HERE.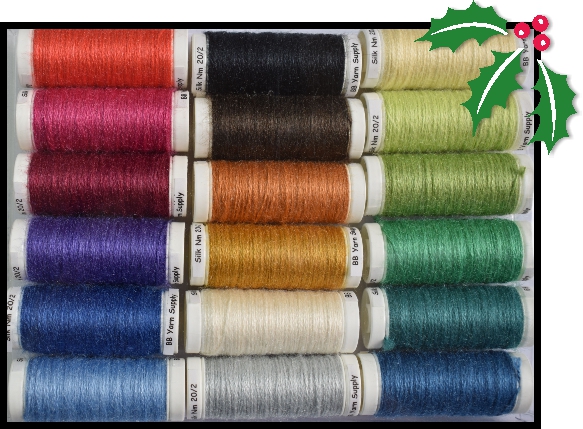 Yarn Box: BB Yarn Supply offers all their yarns on small 10g bobbins in boxes of 18 for your convenience. This is a great opportunity to try out the yarn and not have to buy a large amount. It can also be used to add a little colour in your work here and there. Each box contains 18 small bobbins with 8-10g of yarn on it. Each yarn box has an assorted range of colours in it. These boxes are ideal for any craft work from weaving, stitching, felting, embroidery, or even bookmaking. It is also a great gift for any craft worker and will make every yarn enthusiast's heart beat faster.
Click HERE for more information.
The Silk Mesh Design Pack is designed using our Exclusive Silk Mesh Fabric in conjunction with our Silk Hankies and Bombyx Silk tops – a great way to obtain a variety of products to play with, all of which have been chosen around a central colour theme: Tropical, Ghost Gum, Bush Tucker, Dark & Moody, Ambient, Obsession, The Melbourne, River of Blue.
Each Silk Mesh Design Pack contains:
* Silk Mesh fabric in 3 Colour Harmonies, each piece is 25cm long x 114cm wide
* 15gms of Silk Hankies in 3 colourways
* 12gms of Bombyx Silk tops in 2-3 colourways
$30.00 – click HERE to purchase
Our NEW Ornamental Metal Press Snaps are an elegant closure solution for felted garments. They lay very flat against the felt – a great solution instead of button holes…. (Hint: if you don't want the stitching to be seen on the front-side of your felt, simply don't push needle through to the other side, just catch enough fibres with your needle/thread to hold snap in place.)
To create a reversible garment closure, stitch a snap on both the front and back of each side of your garment. Therefore, when your garment is reversed it can be snapped closed either way. Colours available include: Antique Brass, Gunmetal, Grey Silver, Hexagonal Gunmetal and Black Gunmetal. Snaps measure 20-21 mm in diameter. Sold as a set.
$3.00 – click HERE to purchase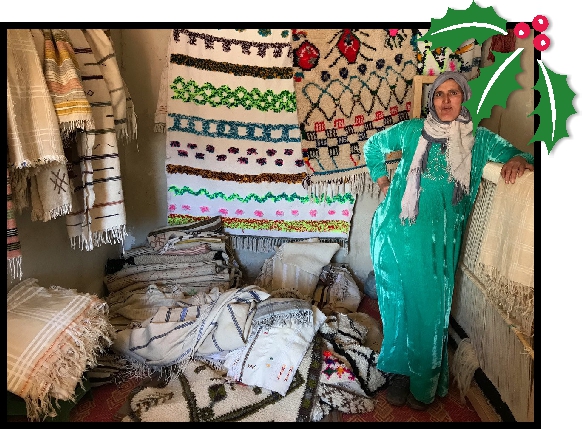 Textiles Tours: Explore the traditional Amazigh (Berber) crafts of Morocco at a grassroots level where women's cooperative ventures present a range of textile creations that meld age-old skills with new innovations. Travelling with a small group of like-minded enthusiasts you will discover the highlights of Morocco and the Amazigh Culture that continues to evolve largely through the extraordinary textile traditions.
For more information click HERE.
Image: Womens weaving association in the High Atlas Mountains, Morocco
Schacht Easel Weaver – Warp, weave, and display in 3 compact sizes: 6″, 8″, and 10″.
The Easel Weaver is designed for on-the-go weaving, creative projects, and classroom settings. Its unique kickstand can be folded flat into the center brace, folded out for comfortable weaving, or extended for display. It is made of quality maple plywood with sturdy warp teeth. No-slip rubber feet keep the loom in place while warping and weaving. The kit includes all the tools needed to weave: 10″ Easel Weaver Loom, Shed Stick, 11" Weaving Stick, Plastic Beater, Plastic Shuttle, Plastic Weaving Needle.
Click HERE for more information and to purchase.
Our Yacka base sock yarn is super soft and delicious, with its blend of Yak, Merino and Silk. It would make an excellent gift for the yarn lover in your life for Christmas.
We have a 20% discount over December for this yarn!
For more information click HERE.

WOOLganic knitters yarns are spun in New Zealand from certified organic or biodynamic Australian merino fleece wool and are processed in accordance with organic standards. They are dyed with low impact metal free dyes.
WOOLganic yarns are made from 21.5 micron merino fleece wool making them soft enough to be worn directly against the skin without scratching. Our yarns have a slightly increased twist to reduce pilling.
The WOOLganic range of dyed yarns comprise 4 ply and 8ply, and we also supply natural hanks for hand dyers in 4 ply and 8ply as well as natural roving for hand spinners. Click HERE for more information.
We have a lovely selection of handcrafted toys such as these shown here – also available are kittens, dinosaurs and teddies. Suitable for children of all ages.
These are available from our Little Glory Gallery shop at 196 South Road, Mile End, SA.
For more information, please see our website HERE.
Spruce up your little one's nursery with our bohemian baby bedding sets handmade with the highest grade of cotton voile.
Description:
Fitted sheet – 70cm (W) x 130cm (L) x 10cm (H)
Flat sheet – 120 cm (W) x 150cm (L)
Pillow case – 56cm (L) x 36cm (W)
Care: Machine wash cold separately on gentle cycle. Line dry in shade. Warm iron if required. Do not bleach.
Please note that there will be irregularities and variations in any hand block printed textile. These are not to be mistaken as defects, but rather the charming traits of slow fashion. This laborious process, conducted purely by hand, means no two pieces will ever be the same.
We hope you like our gift suggestions. We'll look forward to bringing you further lists of gift suggestions down the track ☺