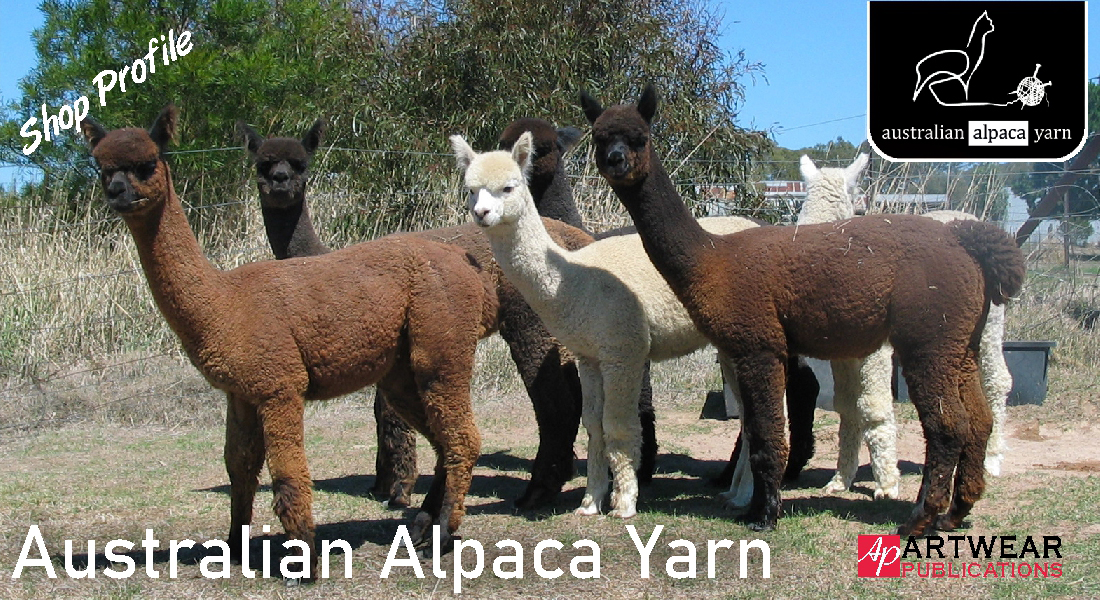 14 Nov

Shop Profile: Australian Alpaca Yarn
Australian Alpaca Yarn: The start of our adventure
by Tim Toshack and Graham Lugg
The commencement of our adventure into the world of alpacas started in 2003 when we purchased our first 3 alpacas. Our initial herd consisted of 2 wethers and a black female on a 25-acre holding of land at Bowning NSW. Our small herd quickly grew to a size that was no longer sustainable, so we moved to a 110-acre block within the same area, as we wanted to stay within the highly acclaimed sheep breeding area of Yass NSW. We found land that was suitable for sheep breeding was ideal for alpaca breeding as well. We now run a herd of between 200 to 250 alpacas, depending on the season and the cria (baby alpaca) that are born each year.
We purchased some of the best genetics available to improve the quality of our herd. Our initial decision to do this has been proven successful by the amount of ribbons we have achieved through our alpaca showing career.
Alpaca Ultimate Yarn – The initial stages.
The Alpaca Ultimate Yarn business was commenced in 2008 by two alpaca breeders in NSW in partnership with an alpaca breeder in New Zealand. The initial partners in the business adhered to strict guidelines for the selection of fibre for yarn production and this quality control has been continued and refined to produce a high-end product.
The Alpaca Ultimate Yarn brand is one of the longest alpaca yarn brands available in Australia using 100% Australian Alpaca fibre. The fibre is sourced from within NSW, and from other states, and must meet our standards before we will use it in our yarn.
Alpaca Ultimate Yarn – Now and the future.
We decided in 2016 to change our name to Australian Alpaca Yarn, selling the Alpaca Ultimate Yarn brand. The yarn we produce is still of the highest quality and we continue to be a major supplier of 100% Australian Alpaca Yarn. We still have our yarn produced in New Zealand because of the long-standing commitment that the mill has to supply a quality product. There are some exciting advances currently happening within Australia that may enable us to bring back the processing of our yarn to our shores—which we would really like to happen, to ensure we are able to supply the same level of quality to our customers.
We continue to produce our 1 ply 70% Australian Alpaca / 30% Silk. Our 2 ply, 4 ply and 8 ply that is 100% Australian Alpaca, and we also produce our bouclé range. Certain lines are available in both balls and on cones.
We have knitting patterns available from our Australian designer Roz at Li'l Meo, who is creating some outstanding patterns for us.
Our yarns are used by machine knitters, weavers, knitters and crocheters, and we have had great feedback from people undertaking these crafts regarding the standard or our yarn. We also have a machine knitter in Victoria who is creating some wonderful garments for us using our yarn.
In the near future we will be producing a natural-coloured line of alpaca yarn.
Australian Alpaca Yarn will be spreading its business opportunities further afield with the introduction of some speciality yarns from throughout the world. We will be promoting this under a different brand name to our alpaca yarn and it will be available from our website www.australianalpacayarn.com.au. Some of the fibres we are currently looking at consist of Silk / Merino/ Yak / Cashmere / Cotton / Linen, with others to be added throughout the adventure.
We continue to attend major fibre events selling our yarn: Canberra Wool Expo in May, Bendigo Sheep and Wool in July and will be looking at attending more in the future.
Enjoy your craft and please consider using some of our yarn.
Visit Australian Alpaca Yarn HERE.