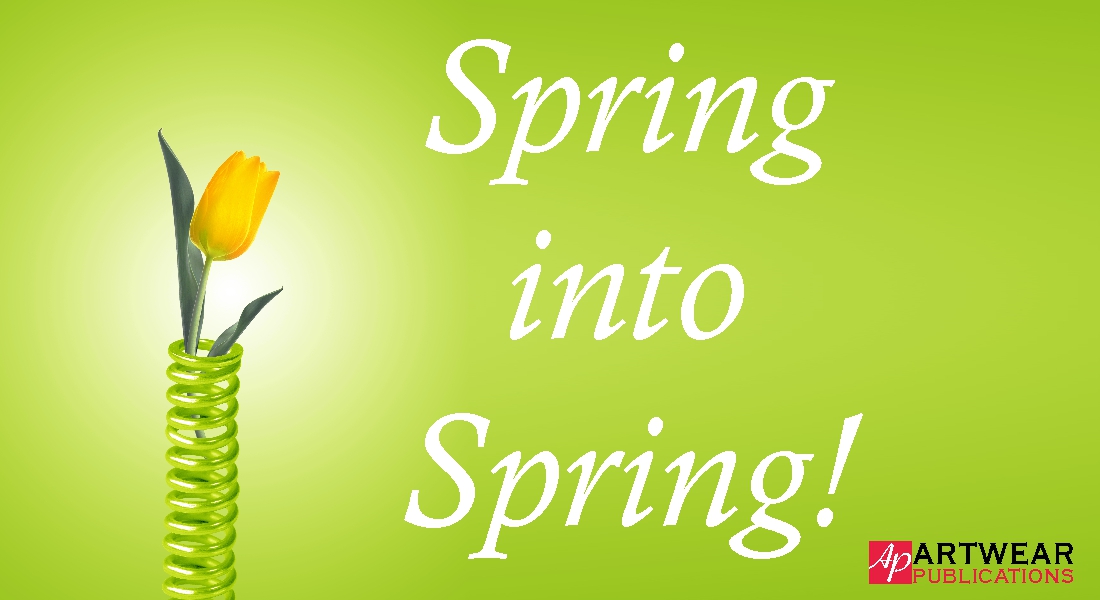 12 Aug

Spring into Spring!

Bringing you up to date and looking forward to Spring!

Our wonderful magazines are put together months before they are published. Events and situations across the world and within Australia have been quickly moving and changing due to the COVID-19 pandemic. What had been scheduled may have been changed or rescheduled. Products available may have changed.

Here we can alert you to some changes / items – so please come back and check this post, as it will be added to as news comes in.
Australian Textile Art Award (ATAA) 2020: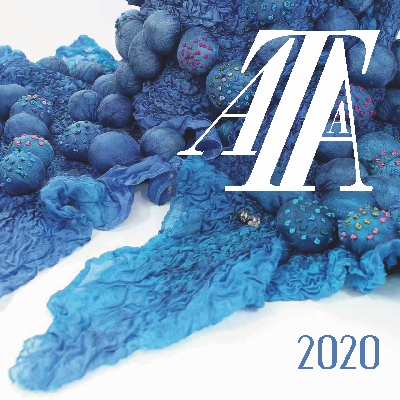 Well, the ever-changing lockdowns in the state of Victoria have put paid to staging the ATAA 2020 exhibition for the public to view first hand for the immediate future. We cannot predict what will be happening, but we can ensure that the incredible textile art created by the juried finalists may be, for a limited time, viewed online and also purchased by appreciative admirers. All artworks may be viewed here.
The book of the ATAA 2020 is available here. If you purchase the book during the time the artworks are available online, a donation will be made to The Embroiderers Guild, Victoria – just put this in the comments section of your order.
The Embroiderers' Guild NSW Inc:
The Guild has three exhibitions that have been postponed and re-scheduled to Spring:
September 3 – 27: A Secret Garden (Sharon Peoples and Belinda Jessup) – Very floral and theme appropriate!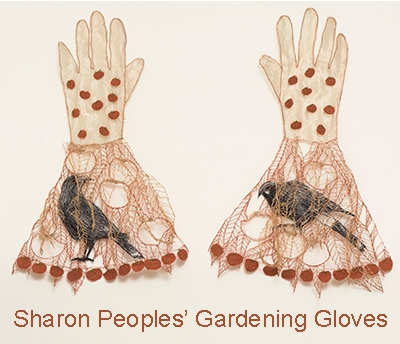 October 3 – Nov 1: Gillian Bencke (Title TBC)
November 7 – Dec 6: A Silk Road to Sydney: Chinese Embroidery in Australia (incl. book launch for Margaret Lee's new book: The Art of Chinese Embroidery II on Saturday 7th)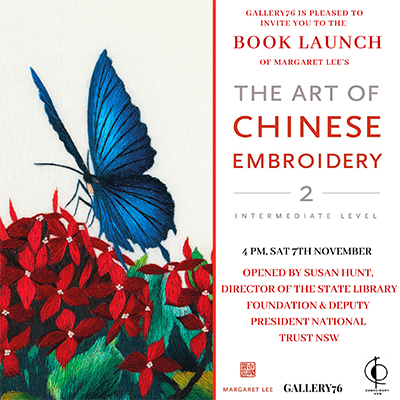 Readers of Embellish magazine will remember Margaret Lee's wonderful embroideries from her artist profile in issue 36 and her Lotus Bud project for us, which appeared on the cover of the issue.
For more information on the above exhibitions, please check the Guild's website.
The Gentle Roller: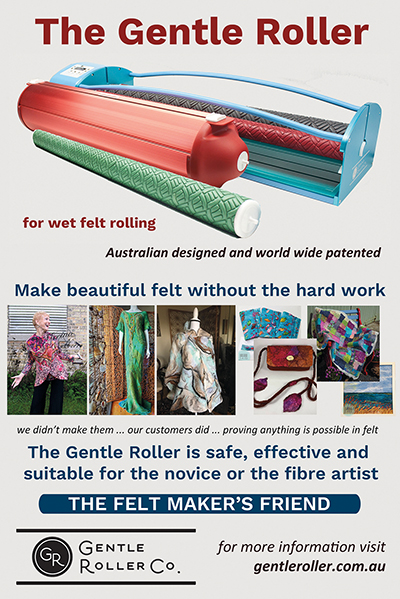 Philip from the Gentle Roller Co. is going out of his way to ensure customers are not disadvantaged by the COVID-19 effect on posting charges. Why not stop by his website and check out the Australian-designed wet felt rolling machines and get creating!
Needle Felting Tools:
Christine from Snowy Creek Engineering has plenty of needle felting tools for you and your projects – lightweight and easy to use!
The Embroiderers Guild, Victoria:
The annual member's exhibition, titled "Stitch Brilliance" unfortunately will not be run in October, in what is their Diamond Anniversary Year – it has been postponed to next year.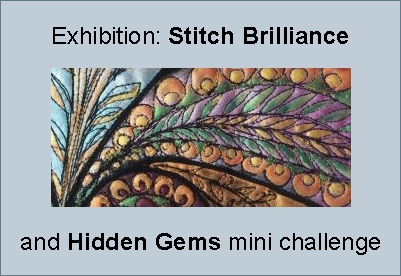 War and Pieced Exhibition:
War and Pieced: The Annette Gero Collection of Quilts from Military Fabrics was postponed and will now run 10 September – 19 December 2020
This exhibition brings the art form of 'military intarsia' back to vivid life with some 30 breathtaking examples spanning from the Napoleonic Wars through the Crimean War of the mid-19th century to the late 19th century British colonial wars in India and southern Africa.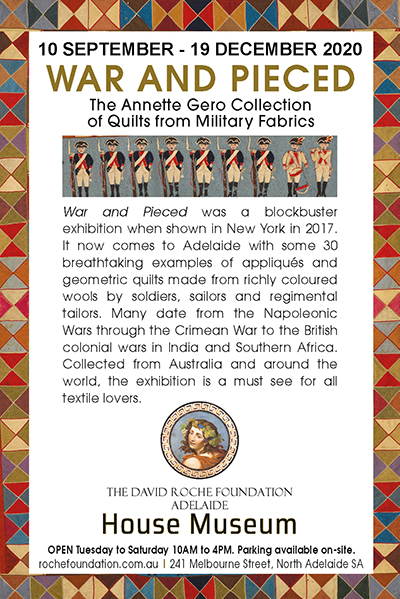 Perle 8 Cottons from Alison Glass:
Put a spring into your step and your stitch with these fabulous sets of perle 8 cotton from Alison Glass – available from The Thread Studio HERE – three boxes of solid colours and one box of variegated, just waiting for you to create with ☺.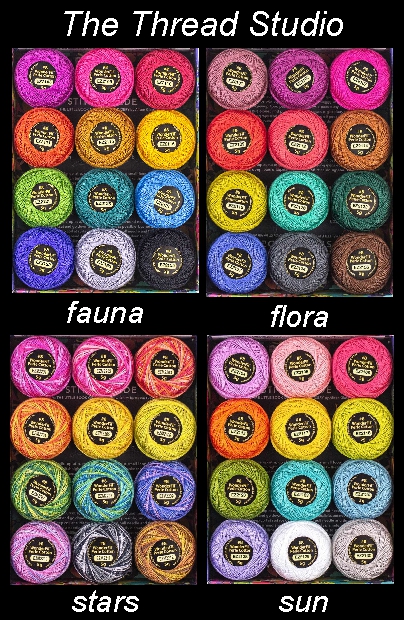 Black Suri Alpaca Yarns:
Marlyn Alpaca is delighted to tell everyone that they have just had a batch of their black alpaca fibre spun up into wonderful yarns – love the way suri alpaca disperses the light! They will be on the web site shortly but to give you an idea have a look at the black yarns currently on the website
What's new:
Black 8 ply strong suri alpaca for proggy projects or hand loomed rugs; soft black lustrous suri skeins ready to knit or weave.
Dark brown suri and huacaya skeins. Just ready for you to be crafty in the new spring light. All skeins approx 100g $37.00 each incl GST.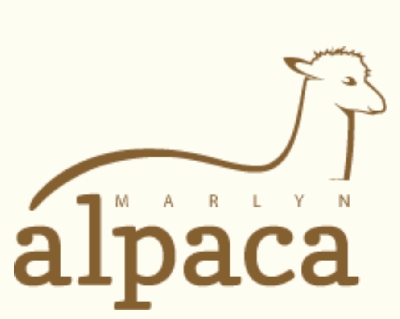 The Victorian Feltmakers:
The Victorian Feltmakers like so many groups have become, or are becoming more proficient at online communication with their members.
Zooming every 2nd week especially important for our country members.
Each fortnight we have had a Felting challenge for our members to join in, with various themes around the Covid19 topic.
1 Bunting COVID! Small piece suitable to hang and display reflects feelings of isolation
2 Resisting COVID, Using resists in a creative way
3 crazy Charismatic COVID felted jewelry with a crazy COVID vibe
4 25th Birthday COVID. Wild and Woolly!
Etc
We hope next year to be able to hold a major exhibition showcasing these challenges. We have canceled our biannual exhibition and also being able to celebrate our 25th birthday in 2020. We were also negotiating with the Royal Melbourne Show Earlier this year for a major presence – would have been this month! – to be a major sponsor of the felting area in the craft pavilion with demonstrations and prizes for various categories and a Best in Show category. We were so looking forward to this event to share Felting with a wider audience. And of course the Wool and Sheep Show Bendigo was canceled also.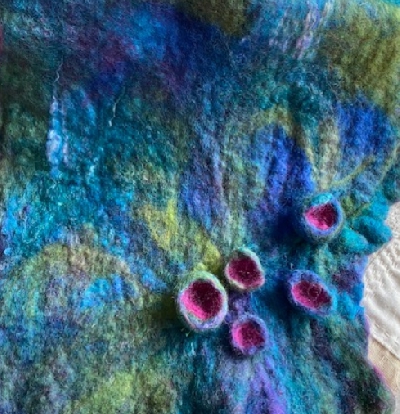 Keep checking back as we add more items as information comes to hand ☺