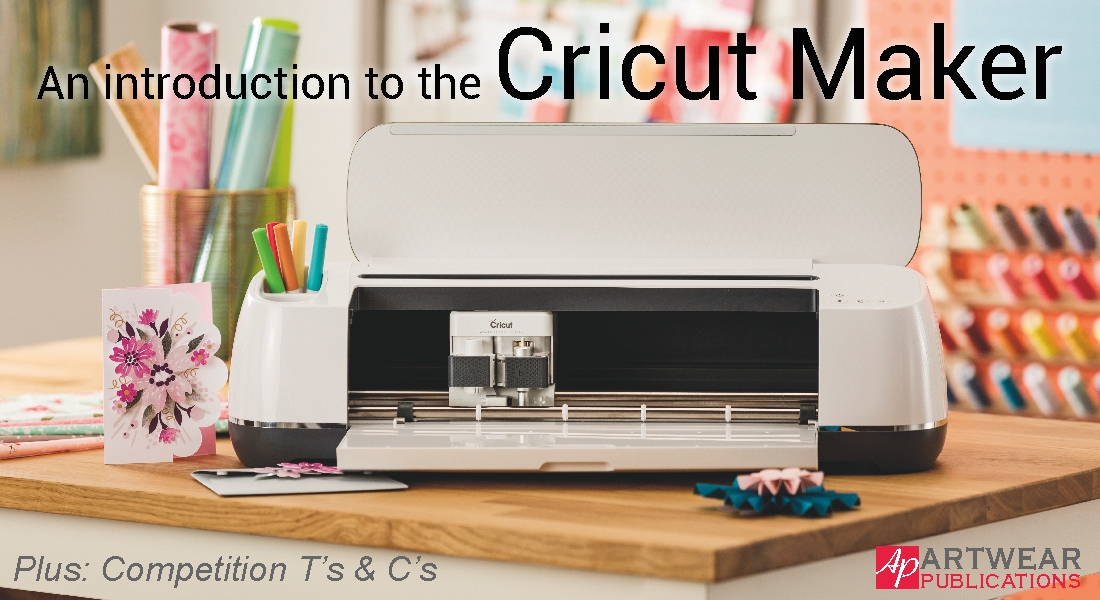 03 Dec

An Introduction to the Cricut Maker – plus competition!

Thanks to the makers of Cricut, we have had the opportunity to play with the Cricut Maker to see what it could do and what we could create.

Here we have an introduction to the Cricut Maker for you, and will be doing a more in depth review shortly after we've had a greater play (life got in the way as they say…). Suffice to say, we've had quite an enjoyable time with the Cricut Maker and can see there is a plethora of projects that could be created!

The Maker is much more than just a paper-cutting machine, with the ability to cut hundreds of materials, as well as emboss, score, draw and engrave, amongst many other things. The promotional material says that it can handle delicate paper and fabric, as well as dense materials like heavy cardboard and leather – we've started testing this out ☺

We tried something fairly straight forward for starters – a trio of handmade cards.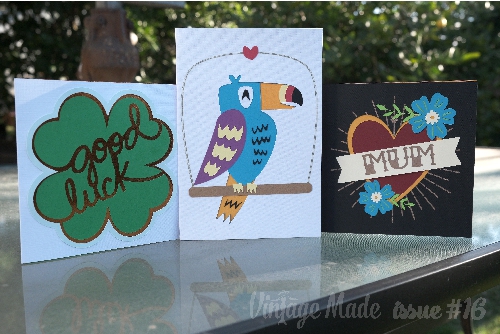 The toucan handmade card is featured as a project in Vintage Made issue 16.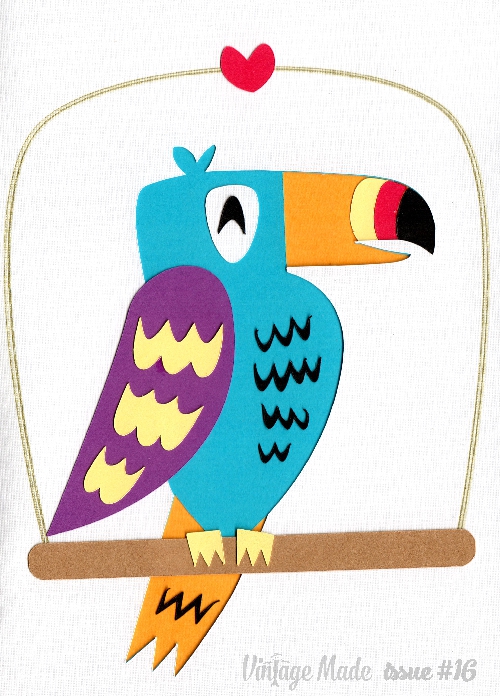 This project could be created without using a Cricut Maker, but the benefit of using it is that the process is made super simple, taking mere seconds, rather than minutes or hours of hand cutting – plus you can get the exact same detail again and again. Care needs to be taken with small pieces – especially if there is a breeze blowing through! (Don't ask!) However, quite small pieces are easy to create.
Looking at the possibilities for using the Cricut Maker in textile art pieces, our Embellish Editor decided to try both creating her own images as well as testing out an image available via Cricut Access.
A stencil was created (from a shadow made by a branch) and cut out using the Cricut Maker: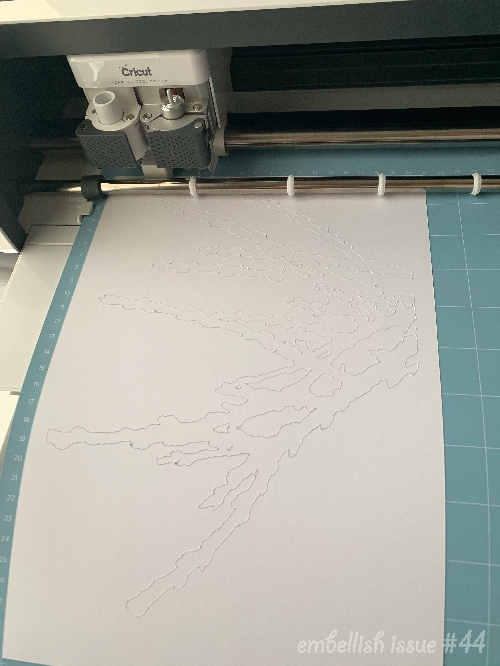 The stencil was used in the "Like a Moth to a Flame" project in Embellish issue 44 as a resist to bleach to create the background fabric. The moth is an image from Cricut Access and had some very intricate holes to pick out of the Iron-on Foil – we found this to be very easy to do! The moth is so stunning! The photo below shows the finished artwork. Full instructions are in Embellish issue 44. This project included hand and machine embroidery, plus adding some beads.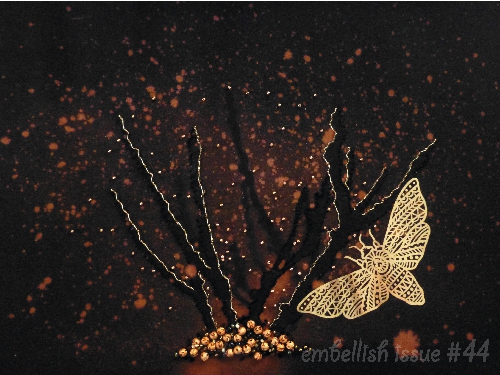 In creating the stencil, there was the stencil surrounds left behind… definitely NOT to be wasted! This was used to create another background for a soon-to-be-finished piece which will appear in full on our blog as a project for you to try or be inspired by. This project also examines just how fine we could push cut-outs. A disintegrating elk horn leaf which formed an interesting web-like structure was used as the basis for an image cut out in Iron-on Foil.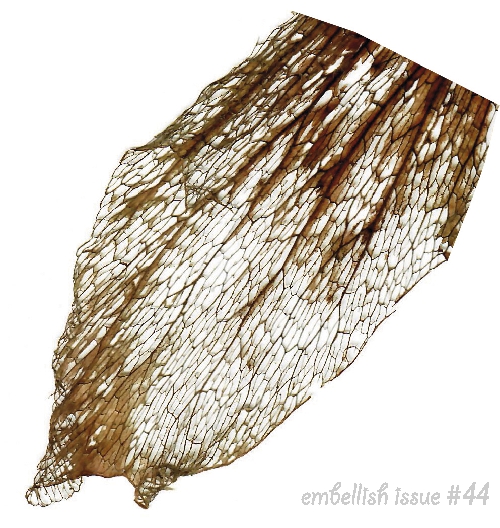 While we did remove some of the very fine detail in tracing by computer program the above leaf once we had scanned it into the computer, the created image, shown below being attached to the background fabric created using the original stencil's surrounds, has quite a lot of fine pieces remaining. The image was put through Cricut Design Space and cut out on the Iron-on Foil. The Cricut Maker handled the cutting of the detail like a boss! Limitations started to creep in when it came to weeding the image, and millimetre-thin lines became tricky to keep on the sticky backing.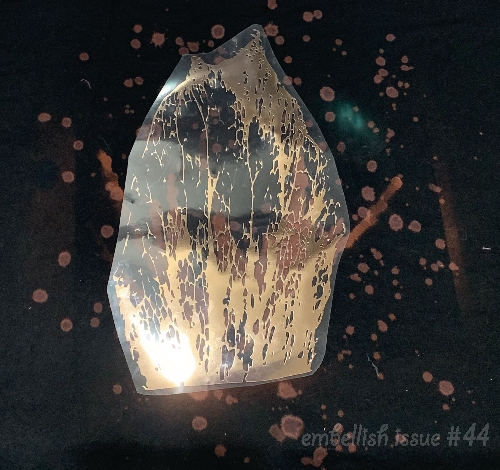 It's probably not advisable to take the pieces smaller than this, as some of them did try to curl up on us. The resulting image on the fabric is reminiscent of an abstract image of fire – which will be embellished with embroidery and beads and presented to you as a project in a separate blog post.
In fact, we will be placing a number of projects created using the Cricut Maker on our blog – complete with instructions ☺
We are sooooooo excited that the makers of Cricut Maker are providing a brand new Cricut Maker to give away to one of ArtWear Publications' readers, and thank them very much on behalf of our readers for this opportunity! The Cricut Maker is operated through the Cricut Design Space, where users can design and make their own projects, as well as subscribe to Cricut Access where thousands of designs are available to recreate or use within your own projects.
Terms and Conditions: Cricut Maker Competition
• In order to supply the Cricut Maker to the winner, we will need to pass your email and address details to the supplier of the competition prize. By entering the competition, you are giving ArtWear Publications permission to do so.
• The prize consists of a single Cricut Maker machine, rrp AUD$600. The full tool range is not included in the prize.
• Answer the questions posed in the Cricut Maker competition advertisements in any of the December 2020 issues of Felt, Vintage Made, Textile Fibre Forum, Embellish and Yarn magazines. The questions are the same in each magazine.
• Entrants must be Australian residents and 18 years of age or over. ArtWear Publications' shareholders, persons receiving remuneration from ArtWear Publications, and any family members of the aforementioned are ineligible to enter this competition.
• Entries must be via our contact form on our website, one entry per email address and per person, and close 14th February 2021, midnight AEDT. Entries made from third party or automated services will be disqualified.
• The single winner will be chosen from all valid entries by an independent party not connected to the organisers after the competition has closed.
• The winner will be notified by email and announced on our Facebook pages.
• The judge's decision is final, and no correspondence will be entered into.
Good luck everyone – we look forward to your entries, and to showing you more of what is possible with the Cricut Maker!