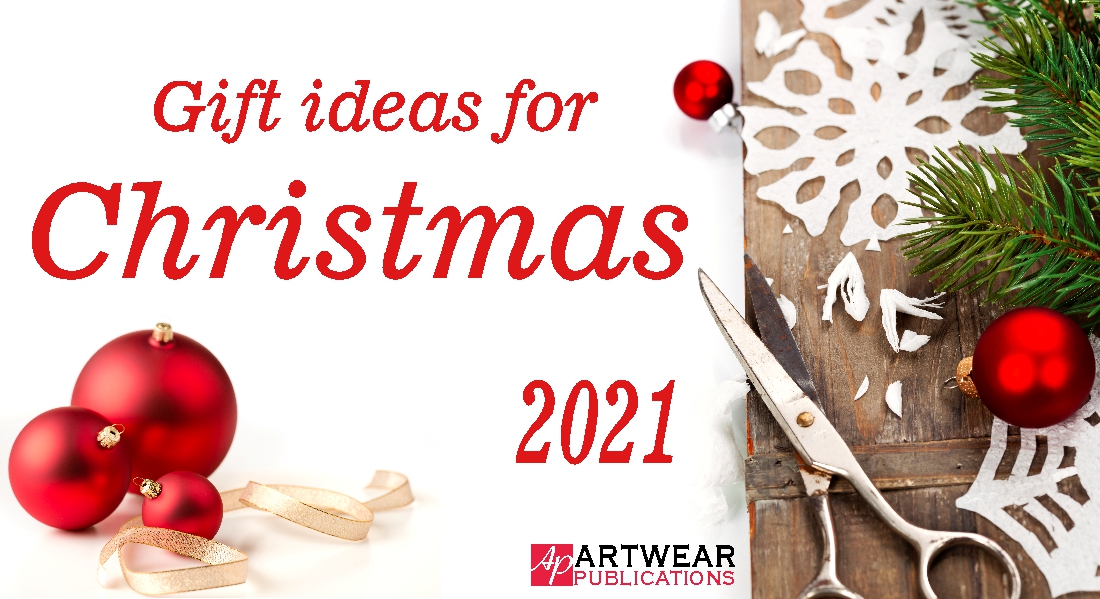 10 Nov

Gift Ideas for Christmas 2021

We are certainly looking forward to the Festive Season after a second year where the world seemed to turn upside down. We have been getting together some great suggestions for Christmas gifts for you which we think you'll like – either for yourself (we all could do with a bit of spoiling ) or to gift to a special person. Please click on the business names or active links (coloured red) for more information on the items that interest you. They are arranged in no particular order, so make sure you scroll all the way down to ensure you do not miss any!

Check back with us, as we will be adding to our list leading up to Christmas, as more information comes in ♥.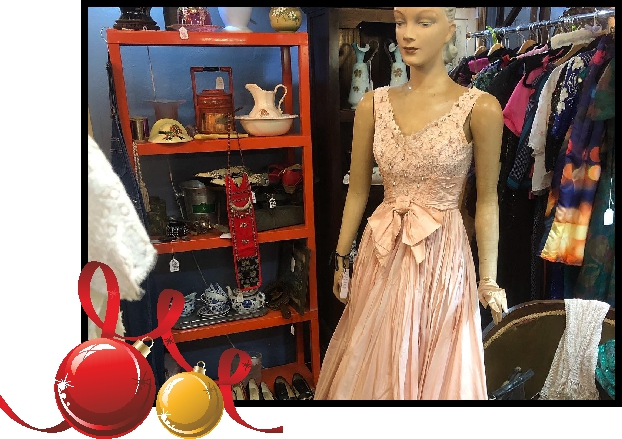 Buy VINTAGE, such as this gorgeous vintage dress, and keep the circular economy going! Help stop what can be the wastefulness of Christmas ♥
See more HERE.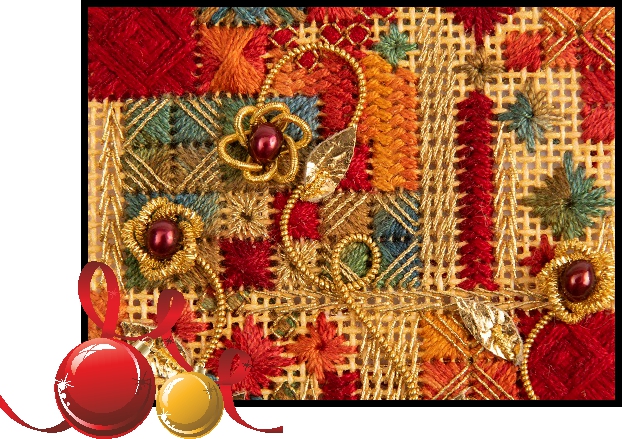 Book a Summer School Workshop! Check out the range of classes at Embroidery House – beginners to the more experienced embroiderers are catered for. For classes in Regional Victoria, contact your nearest Branch.
Not a member? Become a member ☺ – Members enjoy discounts for classes and workshops, support and friendship of Guidance and Friendship groups, access to an extensive library and to an inspiring Collection of significant embroideries, laces and tools. Reduced rates currently apply. Join yourself online, or contact office@embroiderersguildvic.org to arrange a gift membership.
As a member, you (or the person you are joining up) will enjoy priority booking for classes and workshops, support and friendship of Guidance and Friendship groups, access to an extensive library and to an inspiring Collection of significant embroideries, laces and tools.
(Image shown: Embroidery by Alison Cole, a member and regular tutor at The Embroiderers Guild, Victoria)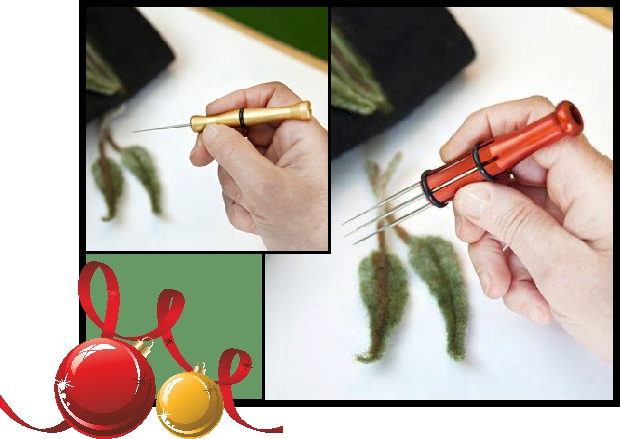 Needle felting tools that the professionals use – easy, fast, safe needle changes.
Snowy Creek Needle Felting Tools are unique precision machined light-weight aluminium tools for all your hand felting work.
Multi needle: holds 1-6 needles in any configuration – all needles are held exactly parallel. The tool's unique roll resistance means it stays where you put it without rolling off the table.
Single needle: precision centred tip.
Our ergonomic design ensures that the tool fits the user's hand comfortably, with the entire needle shank held within the tool, providing the shortest distance between fingers and felt. Requiring minimal gripping effort, this tool provides you with the highest level of control and precision in your work. Click HERE for more information.
Inspired by the Australian Landscape – hand-dyed Australian merino wool yarn, in the colours of Australia.
Gift vouchers are available.
Don't forget to subscribe to the newsletter to keep up-to-date with new stock arrivals.
Dr Rie Natalenko has some of her books for you:
Share Your Skills: The ultimate guide to running an art or craft workshop Why Not Share YOUR Skills? You can learn to run art or craft workshops, or improve your workshops with this excellent guide. You're an artist or a craft practitioner who is excellent at what you do! You want to pass on your skills and maybe supplement your income with workshops. Maybe you already run workshops but want to make them run more smoothly and successfully? This practical book takes you step by step through everything you need to know – from the benefits of running workshops to what to do before, during and after. It also covers students' learning styles and the business side of running workshops, and has a massive section of resources: checklists, emails and handouts. It is absolutely the Ultimate Guide to running an art or craft workshop! Dr Rie Natalenko has an Honours Masters degree in Education, specialising in teacher training, and a Masters and Doctorate in Creative Arts. This book combines her love of teaching with her passion for creating things beautiful and useful.
The Family Message Book The Family Message Book is your Message to your family. It contains all the things they need to know if you should pass away. The Family Message USB is a great way to save all the important information that you don't want to write in the book.
The Family Memory Project The Family Memory Project will help you to gather, record and preserve your family stories. These memories are part of your heritage, something that you can share with your children and grandchildren. The Family Memory Project is a step-by-step proven system that makes collecting your relatives' memories easy and rewarding. It's the present of the past… for the future.

Christmas fun for all the family. Two themed scavenger hunts to choose from – you decide where to hide the clues and fill in the details in the fully-illustrated clue pages. We also have a Christmas wish list and gift tags that condenses gift giving down to four categories. Stops the overspend on endless gifts. Laminate the tags and use them every year.
We have Christmas Fun all wrapped up!
Mishy Dee also has other themed scavenger hunts that the whole family can enjoy – Alice in Wonderland, Halloween, Easter…
Click HERE for more information.
What to show you from a whole selection of wonderful arts and crafts books? Stephanie has chosen three for starters ☺
Resilient Stitch: Wellbeing and Connection in Textile Art – Following on from Slow Stitch, author Claire Wellesley-Smith considers the importance of connection and ideas around wellbeing when using textiles for individuals and communities. Resilient fabrics that can be manipulated, stressed, withstand tension and be made anew are recommended throughout the book, as well as techniques such as layering, patching, reinforcing, re-stitching and mending. Plus ideas for the inclusion of everyday materials in your work.
Textures from Nature in Textile Art: Natural Inspiration for Mixed Media and Textile Artists – Learn how to create beautiful textile art inspired by details in nature in this practical and inspirational guide. Acclaimed textile artist Marian Jazmik shows how to use unusual recycled and repurposed materials combined with traditional fabric and thread.
Knitting Comfortably: The Ergonomics of Handknitting – This book, by Carson Demers & Ann Budd, will help you understand the ergonomics of knitting so you can improve your safety, efficiency and productivity in knitting.
The Gentle Roller is every felt maker's friend; assisting you to make beautiful felt without hand rolling.
It is safe, effective and suitable for the novice or fibre artist – whatever felt you make. It gives you more time to be creative, plan your next piece or enjoy a well-earned break while it does the hard work.
Reward yourself this Christmas. Check the website for current special offers.
Surface Design Journal is a quarterly print publication that brings the world of contemporary fibre arts to your fingertips.
International in scope, articles focus on contemporary textile and fibre-based art and design through a breathtaking array of concepts, applications, processes, and materials.
Christmas at the Embroiderers' Guild NSW!
Dozens of embroidery books, specialty threads, linens and more!
Can't decide? Gift Vouchers can be used for shop materials, workshops, or Guild membership!
Visit us at 76 Queen St, Concord West, 2138 (9-4 Weekdays, 10-2 Weekends) or enquire via: info@embroiderersguildnsw.org.au / (02) 9743 2501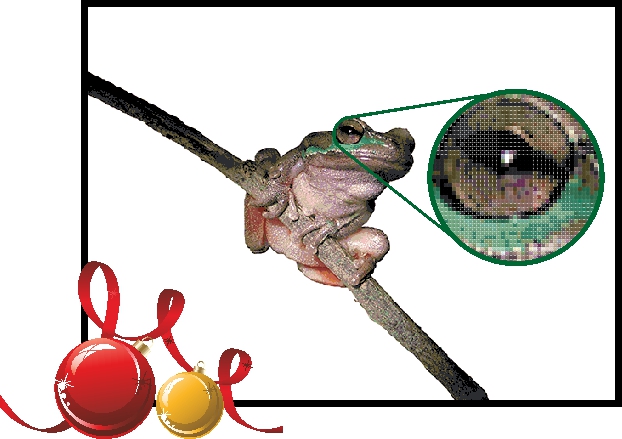 Do you have a photo that you would love to be converted into a cross stitch chart?
I can help you ☺
Click HERE for more information.
New to Kathys Fibres are these beautiful, hand dyed and coordinated sets of mini skeins!
They are available in sock / 4ply and 8ply – with more colourways shown on the website. Check out the What's New tab ☺
These sets would make the perfect gift for the creative person in your life (or keep just for yourself!).
Specialist art tours!
Join Valerie Kirk on a textiles tour in Morocco, 6th – 20th June 2022
More information HERE or email info@amazighculturaltours.com
Sari Silk Yarn hand made from mulberry silk waste into wonderful balls of colour!
We have a special Christmas box of 4 balls – each is 100g (approx. 80 metres), $55
Who doesn't love a bit of resist dyeing? – particularly Shibori.
We have your Shibori needs covered! More information here.
We hope you like our gift suggestions – as mentioned above, we are still adding to this list as others within our ArtWear Publications family bring items to our attention leading up to Christmas, so don't forget to check back ☺ – we'll also let you know of new additions via our Facebook page.