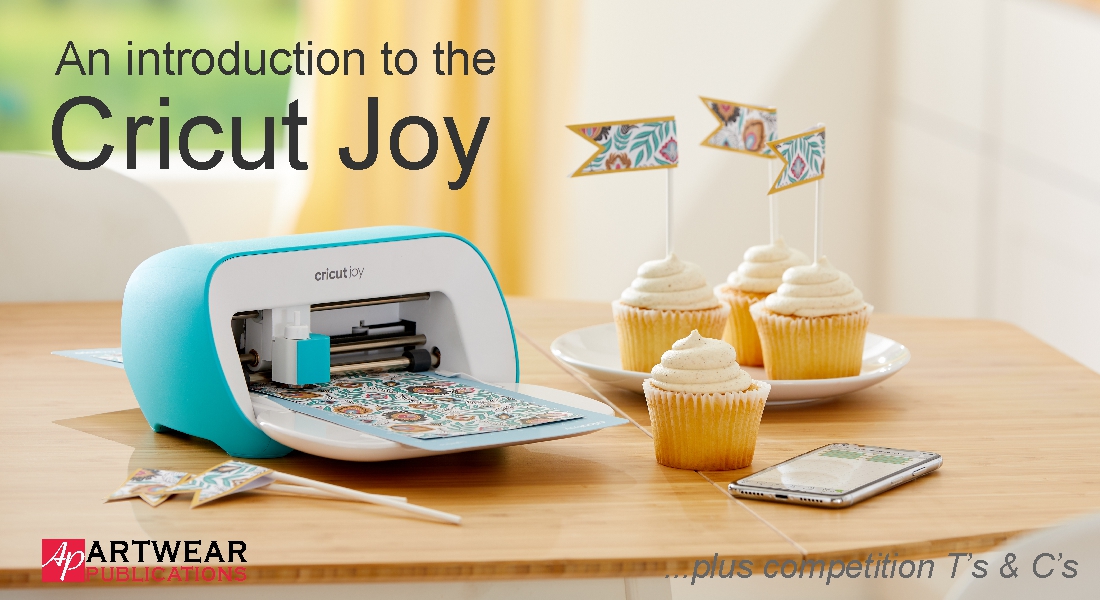 09 Dec

An Introduction to the Cricut Joy – plus competition!

Thanks to the makers of Cricut, we have had the opportunity to play with the Cricut Joy to see what it could do and what we could create.

It's quite a small cutting machine – but packs a punch for its size, and is certainly designed for creating projects literally from anywhere in your home or studio.

The Cricut Joy functions like a printer, but rather than depositing ink, it precisely cuts materials following your instructions – quite involved patterns and designs may be created. It also introduces two new features: with the introduction of an all-new line of accessories and materials, Cricut Joy enables us to cut single designs up to 1.2m long, and continuous designs up to 6m with Smart Materials™. There is also a uniquely designed mat to use to create customised greeting cards easier than ever before.

But wait, there's more! Along with the ability to cut, the Cricut Joy can also draw and write on a variety of popular materials – we can personalise loads of items ☺ …clothing, home décor, gifts…. create stickers, decals, and so much more.

To start with, we created a photo frame mount, in a project featured in Vintage Made issue 18. The amount of detail and thinness of line possible was wonderful!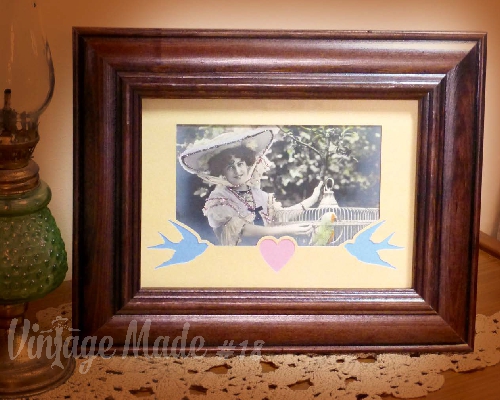 The files created for the Cricut Joy are available for download in the Description of Vintage Made issue 18 at the above red link.
Elsie Law designed a layout of a calling bird amongst leaves and flowers, which was created at a size to fit onto a 10cm cube box that was looking a little too naked. Teal coloured Permanent Smart Vinyl was used with the LightGrip mat and thenTranfer Tape used to transfer the cut designs onto the box. This was so simple to do, and looked so professional! The project is in Vintage Made issue 18.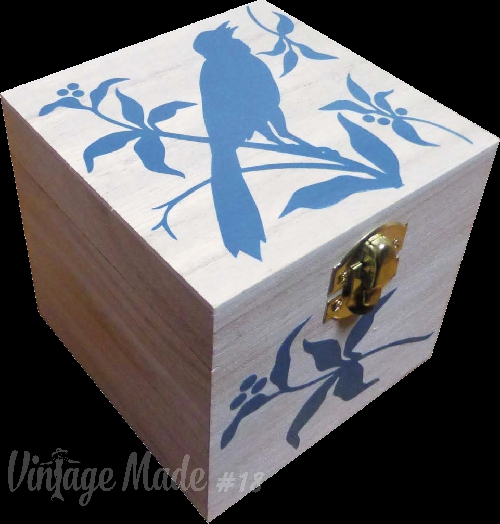 The files created for the Cricut Joy are available for download in the Description of Vintage Made issue 18 at the above red link.
Have you seen the cover of the current issue of Embellish? On the cover is a fabulous project by the talented Penny Eamer – this colourful crab is native to the Galápagos Islands. Penny created a stencil to use when painting the fabric.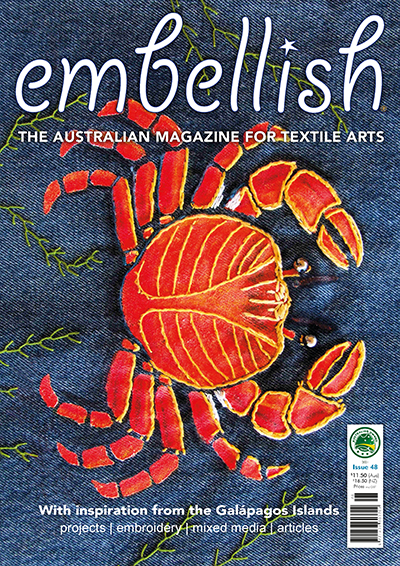 Therefore, we thought we would have a go and instead of meticulously cutting out a stencil by hand, we used the Cricut Joy and 200gsm card stock: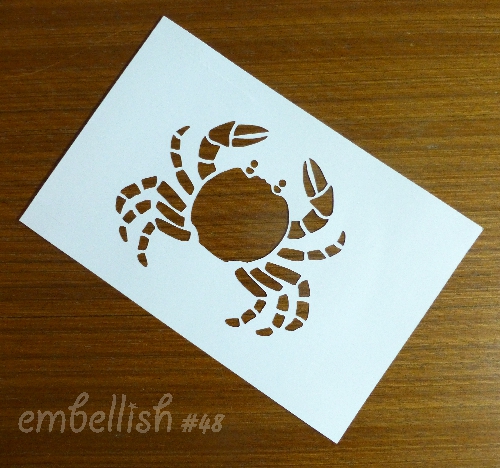 The result is not quite as robust as Penny's (she used 225gsm), but is easily replicated if it gets a bit worn from multiple uses. It is a little smaller than Penny's crab, as the cutting width of the Cricut Joy is 4.5″ – we put the crab sideways through the machine, which seemed rather appropriate ☺.
Yes, the above projects could all be created without using a Cricut Joy, but the benefit of using it is that the process is made super simple, taking mere seconds, rather than minutes or hours of hand cutting – plus you can get the exact same detail again and again.
We are sooooooo excited that the makers of Cricut Joy are providing a brand new Cricut Joy to give away to one of ArtWear Publications' readers, and thank them very much on behalf of our readers for this opportunity! The Cricut Joy is operated through the Cricut Design Space, where users can design and make their own projects, as well as subscribe to Cricut Access where thousands of designs are available to recreate or use within your own projects.
Terms and Conditions: Cricut Joy Competition
• In order to supply the Cricut Joy to the winner, we will need to pass your email and address details to the supplier of the competition prize. By entering the competition, you are giving ArtWear Publications permission to do so.
• The prize consists of a single Cricut Joy machine, rrp AUD$349. The full tool range is not included in the prize.
• Answer the questions posed in the Cricut Joy competition advertisements in any of the December 2021 issues of Felt, Vintage Made, Textile Fibre Forum, Embellish and Yarn magazines. The questions are the same in each magazine.
• Entrants must be Australian residents and 18 years of age or over. ArtWear Publications' shareholders, persons receiving remuneration from ArtWear Publications, and any family members of the aforementioned are ineligible to enter this competition.
• Entries must be via our contact form on our website, one entry per email address and per person, and close 14th February 2022, midnight AEDT. Entries made from third party or automated services will be disqualified.
• The single winner will be chosen from all valid entries by an independent party not connected to the organisers after the competition has closed.
• The winner will be notified by email and announced on our Facebook pages.
• The judge's decision is final, and no correspondence will be entered into.
Good luck everyone – we look forward to your entries, and to showing you more of what is possible with the Cricut Joy!