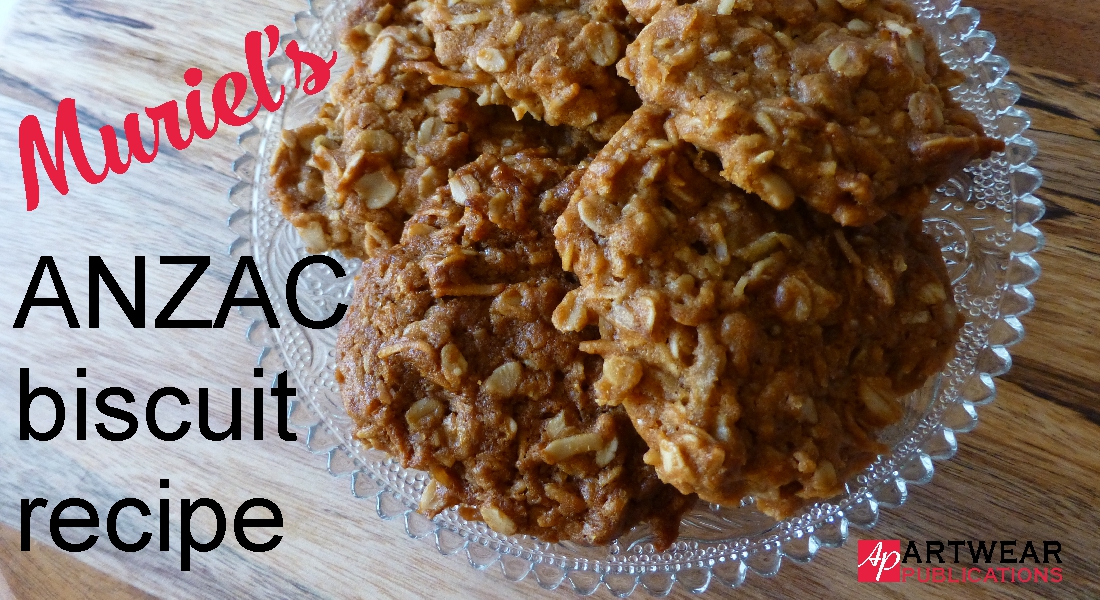 24 Apr

Muriel's ANZAC Biscuit Recipe

Anzac biscuits commemorate the coming of age of Australia and New Zealand through their joint participation in WWI. There is deliberately no egg or milk in the recipe so the biscuits will not spoil or go stale quickly. The original army ration recipe was adapted for use in fund raising for the war effort. My version produces biscuits that are more chewy than crunchy.

My second batch replaced some of the coconut with grated pear and grated ginger.
Ingredient
Basic recipe
Modified recipe
Dry
Plain flour
1 cup
Rolled oats
1 cup
Raw castor sugar
½ cup
Shredded coconut
1 cup
¾ cup
Grated pear
–
¼ cup
Grated ginger
–
1tbsp/20mL
Wet
Butter
125g
Golden syrup
2tbsp/40mL
Hot water
2tbsp/40mL
Baking soda
¾tsp/4mL
Step 1 Preheat oven to 170⁰C / 340⁰F. Line a couple of baking trays with non-stick baking paper.
Step 2 Sift flour into a large bowl and stir in other dry ingredients to combine. Set aside.
Step 3 Place the butter and golden syrup in a small saucepan over a low heat. Stir until the butter is fully melted. Remove from heat. Immediately dissolve the bicarbonate soda in the hot water and stir into the saucepan until well combined. The mix will froth.
Step 4 Pour the hot liquid into the dry ingredients. Mix together until fully combined. Roll tablespoons of mix into balls. Place on the baking trays, pressing on the tops to flatten them a little. They will flatten considerably further during cooking, so allow room between biscuits.
Step 5 Bake for 12 minutes or until golden brown. Let them cool and firm on a wire rack, if you can, before eating.
Recipe by Muriel Farquhar
This recipe appears in Vintage Made issue 9 – our "Australian Made" issue, available HERE in print, or HERE in digital. Other recipes from Muriel in this issue are Damper and Macadamia nut recipes (incl. cheesecakes).