07 Dec

Gift Ideas for Christmas 2020

After what has been a year turned upside down, we are looking forward to the Festive Season and are getting together some great suggestions for Christmas gifts for you which we think you'll like – either for yourself (we all could do with a bit of spoiling ourselves) or to gift to a special person. Please click on the business names or active links (coloured red) for more information on the items that interest you. They are arranged in no particular order, so make sure you scroll all the way down to ensure you do not miss any!

Check back with us, as we intend to be adding to our list leading up to Christmas, as more information comes in ♥.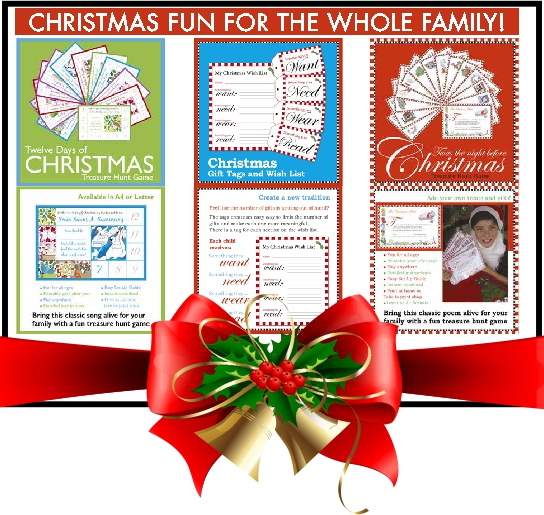 Christmas fun for all the family. Two themed scavenger hunts to choose from – you decide where to hide the clues and fill in the details in the fully-illustrated clue pages. We also have a Christmas wish list and gift tags that condenses gift giving down to four categories. Stops the overspend on endless gifts. Laminate the tags and use them every year.
We have Christmas Fun all wrapped up!
Mishy Dee also has other themed scavenger hunts that the whole family can enjoy – Alice in Wonderland, Halloween, Easter…
Click HERE for more information.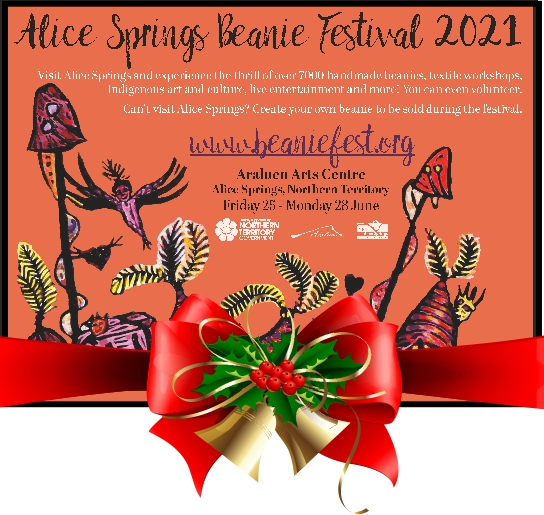 Visit Alice Springs and experience the thrill of over 7000 handmade beanies, textile workshops, Indigenous art and culture, live entertainment and more!
Friday 25th – Monday 28th June 2021
Click HERE for more information.
The Guild has all your embroidery needs this Christmas from books to beautiful threads, embroidery scissors and hand-printed fabrics!
They also have a lovely gallery shop as part of their textile art gallery – Gallery76 – which has a selection of beautiful hand-made pieces: fun, lightweight earrings by Penny & Pop, stunning embroidered scarves by an Indian artisan community, one-of-a-kind hand-felted nuno scarves, and Learn to Weave Kits by Sky Carter.
You can also purchase Gift Vouchers which can be exchanged for shop goods, courses or workshops with the Embroiderers' Guild NSW. Visit us today at 76 Queen St, Concord West | Email: info@embroiderersguildnsw.org.au | Ph. (02) 9743 2501

New to Marlyn Alpaca: Handspun and art yarns in a mix of alpaca (of course) with wool or silk.
Each item is a unique handcrafted work of art in itself.
Click HERE for more information.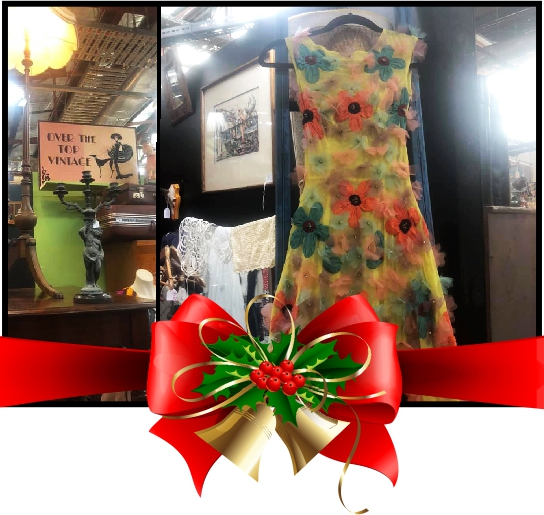 Buy VINTAGE, such as this gorgeous vintage dress, and keep the circular economy going! Help stop what can be the wastefulness of Christmas ♥
See more HERE.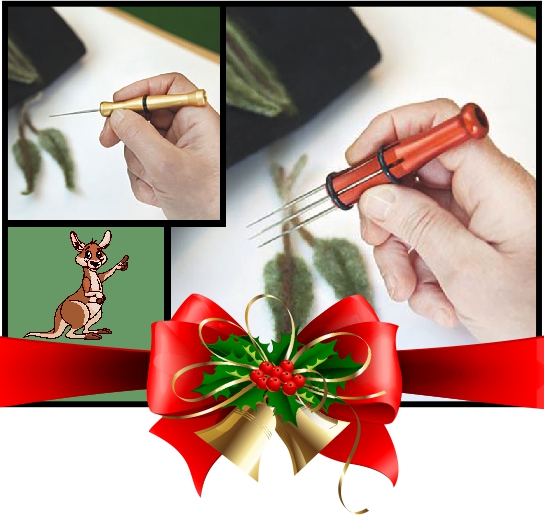 Needle felting tools that the professionals use – easy, fast, safe needle changes.
Snowy Creek Needle Felting Tools are unique precision machined light-weight aluminium tools for all your hand felting work.
Multi needle: holds 1-6 needles in any configuration – all needles are held exactly parallel. The tool's unique roll resistance means it stays where you put it without rolling off the table.
Single needle: precision centred tip.
Our ergonomic design ensures that the tool fits the user's hand comfortably, with the entire needle shank held within the tool, providing the shortest distance between fingers and felt. Requiring minimal gripping effort, this tool provides you with the highest level of control and precision in your work. Click HERE for more information.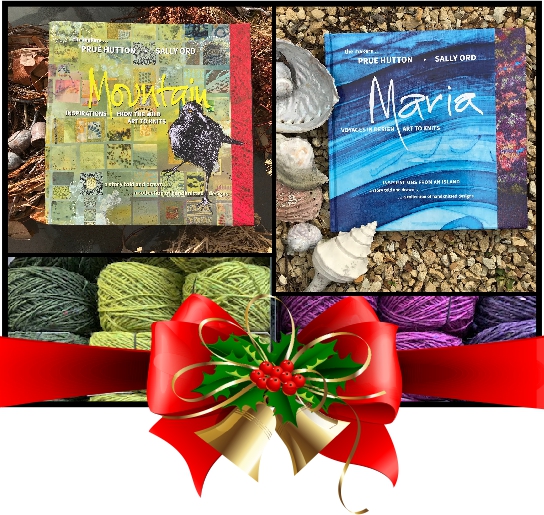 Whether you're a knitter or you enjoy an interesting read through lavishly illustrated pages, these books by Prue Hutton and Sally Ord are the perfect present.
Mountain, inspirations from the wild – art to knits: Stories inspired by walks on kunanyi/Mount Wellington, Tasmania. 10 original knitting designs reflecting the mountain experience. $55.00
Maria, voyages in design – art to knits: Explore Maria Island off the east coast of Tasmania: stories, drawings and screenprints, 8 knitting designs. $49.95
Both books are an invitation to interpret your own journey of discovery and demonstrate the link between an artist's viewpoint and using yarn to design a garment for wearing that has associated memory. Buy both books for $100.00
Stunning yarns from Ireland! 8 ply Irish Tweed is a warm, but light mix of 70% Irish wool and 30% mohair $13.75 per 50g. 10 ply Kilcarra Tweed is 100% Irish wool. Magical colours. $22.50 per 100g.
More information HERE.
Book a workshop in the Grampians at Grampians Texture for a special gift: 2, 4 and 6 day workshops in a range of textiles subjects available. Check out the website HERE for more information.
The Gentle Roller is a breakthrough in the exhausting and repetitive process of hand rolling felt, assisting you to make beautiful felt without the hard work. It is safe, effective and suitable for the novice or fibre artist – whatever felt you make. It will complement your studio, freeing you for more important activities like planning your next piece or enjoying a well-earned break.
More information HERE.
New Zealand born textile artist Carole Douglas, will take you into the heart of South Pacific fibre arts in markets, museums and maraes. During a journey that weaves together the heritage of migration you will meet traditional and contemporary practitioners, immerse yourselves in cultural events and enjoy rare hands on opportunities while enjoying the tranquil beauty of Aotearoa.
Carole's background as a former arts teacher, tutor and advisor in NZ will offer special insights into this rich material culture.
Itinerary: Auckland, Wellington, Nelson by bus, train and ferry with stops along the way.
Dates Carole is looking at are February 21st – March 6th 2021 (TBF) and October 17 – November 4th 2021.
Expressions of interest taken now.
Carole also has some great gifts in her shop The Conscious Cloth Company .
Can Do Books is the home of fine leisure books and sewing patterns. We offer the best range in Australia, at great prices, especially for crafters, artists, gardeners and woodworkers.
Our December Catalogues are now online with plenty of inspiration for gift giving or suggestions for desperate gift givers!
LEARN – DESIGN – CREATE
with innovative products from Genesis Creations.
All Liquid Radiance and Flat Paint Packs, as well as Stencil Burner pack, are available at special prices until 31st December 2020. Safe, simple, economical, and non-toxic, our products are all Australian made.
Learn fabric designing and silk painting by zooming to Anne Mitchell's Studio. FREE Introductory and Advanced Web Workshops recommence in February 2021. Booking is essential. Find more information on the website, What's New and Events pages.
We thank you for supporting our Australian-owned family business, and look forward to sharing our skills with you.
Dr Rie Natalenko has some of her books for you:
Share Your Skills: The ultimate guide to running an art or craft workshop
Why Not Share YOUR Skills? You can learn to run art or craft workshops, or improve your workshops with this excellent guide.
You're an artist or a craft practitioner who is excellent at what you do! You want to pass on your skills and maybe supplement your income with workshops. Maybe you already run workshops but want to make them run more smoothly and successfully? This practical book takes you step by step through everything you need to know –
From the benefits of running workshops to what to do before, during and after. It also covers students' learning styles and the business side of running workshops, and has a massive section of resources: checklists, emails and handouts. It is absolutely the Ultimate Guide to running an art or craft workshop!
Dr Rie Natalenko has an Honours Masters degree in Education, specialising in teacher training, and a Masters and Doctorate in Creative Arts. This book combines her love of teaching with her passion for creating things beautiful and useful.
The Family Message Book is your Message to your family. It contains all the things they need to know if you should pass away. The Family Message USB is a great way to save all the important information that you don't want to write in the book.
The Family Memory Project will help you to gather, record and preserve your family stories. These memories are part of your heritage, something that you can share with your children and grandchildren. The Family Memory Project is a step-by-step proven system that makes collecting your relatives' memories easy and rewarding. It's the present of the past… for the future.
We hope you like our gift suggestions – as mentioned above, we'll be adding to this list as others within our ArtWear Publications family bring items to our attention leading up to Christmas ☺