20 Oct

AFAA 2021 – Australian Fibre Art Award 2021

The Australian Fibre Art Award (AFAA), run for the first time in 2021, is envisaged to become a nationally important award for fibre artists, run biennially. Yes, we are definitely aiming high! And why not? We have some incredible talent here in Australia and the AFAA is viewed as a means by which to showcase the high calibre of our Australian fibre artists.

Fibre artists from across Australia were invited to enter recent, unseen works and our three judges chose the finalists by independently assessing the artworks using the photos and statements supplied by the artists (not knowing who had created the artworks), before coming together and compiling the resultant list of 25 artworks.

Each eligible entry was assessed for:

quality of composition and overall design;
uniqueness of concept, originality and creativity;
technical execution;
choice of technique(s) to impart the message/idea;
and overall impression.

The COVID-19 lockdown in Sydney played havoc with the exhibition and with the final judging, which was to have taken place in person once the exhibition was hung at Gallery76. However, thankfully, the Embroiderers' Guild NSW Inc. was able hang the exhibition and get the pieces to the judges in a virtual capacity to complete their judging.

Thank you to the Embroiderers' Guild, NSW Inc. for hosting and hanging the exhibition at Gallery 76, arranging the online formal opening of the exhibition, and for placing the exhibition online for everyone to visit. A special thanks must go to April Spiers and Janet Davidson for their additional support!
OUR JUDGES FOR AFAA 2021:
Rie Natalenko – Editor of Yarn magazine, Rie is a passionate craftsperson: felting, working with textiles, knitting, sewing, crochet, appliqué, fabric painting, embroidery, spinning, weaving. Rie has a doctorate in creative writing and is also an educator. She is the face behind "The Write Impression".
Denise Stevens – In Denise's words: 'After a long and satisfying scientific career, during which I was also actively involved in the textile arts as another creative outlet, I now only pursue my fibre passions, particularly in weaving. My primary interest is in tapestry weaving but I also weave on multi-shaft looms and occasionally with basketry materials. Each presents its own challenges and delights.'
Liz Williamson – Liz is a weaver, academic and textile artist based on Gadigal and Wangal lands of the Eora nation in the Inner West of Sydney. With her practice spanning 40 years and work in numerous public collections, she is still fascinated with the process and potential of interlacing two sets of threads on her loom. Liz has been involved in education for 30 years and is currently an Honorary Associate Professor, UNSW, Sydney.
(Click the red links to see more of Rie and Liz – Denise does not have an online presence)
The formal opening of the AFAA 2021 exhibition, including announcement of the AFAA winner, the Judges' Highly Commended winner, and the Excellence in Felt winner by The Governor of NSW Her Excellency the Honourable Margaret Beazley AC QC, was performed online. The walk through of the exhibition and record of the opening of the exhibition may be seen in this video:
OUR WINNERS FOR THE AFAA 2021:
The winner of Excellence in Felt, sponsored by Gentle Roller Co.,and judged by the Gentle Roller Co., was a beautiful piece of sculptured felting. Wet felting over a resist, hand and machine rolling and then rubbing with thin plastic went into its creation. Winner: "Yellow Cocoon" by Denise Lithgow.
The winner of the Judges' Highly Commended prize, sponsored by ArtWear Publications, impressed the judges. Hand embroidery and applique were worked directly into the Mulberry bark. Winner: "Relic Series: What lies beneath my breast" by Joy Denise Scott.
The winner of the major award, the $2000 Australian Fibre Art Award sponsored by ArtWear Publications, was an artwork which is very complex when seen close up, its execution stunning. Merino wool, wet Nuno felting, printed silk, burnt, and stitched with wool thread. Winner: "Hope" by Catherine O'Leary.
The winner of the Viewers' Choice, sponsored by ArtWear Publications and determined after the close of the exhibition, was created using many techniques. The hare was made by needle felting merino tops around a wire armature, with an Opalite gemstone eye and carved eucalyptus claws. His cloak was wet felted from merino tops, embroidered with metallic threads. Lichen, embroidered using cotton and wool yarns, covers the eucalyptus base along with felted, embroidered toadstools. The accessories were made from combinations of wool, leather, fabric, yarns, timber, acorn caps and findings. Winner: "Wilderness Prophet" by Jessica Smith.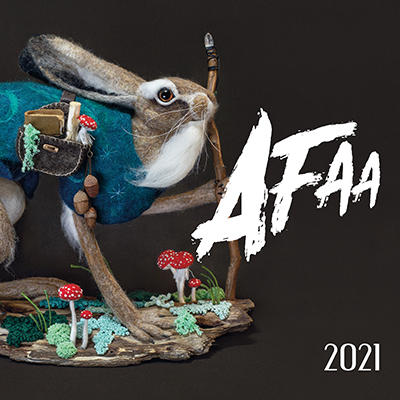 Each of the chosen finalist artworks has been published in the book Australian Fibre Art Award 2021 (which just happened to feature the winner of the Viewers' Choice on the cover), along with all artist statements and information regarding each of the works. It also contains profiles of and artworks by the three judges. The book is a great reference book for all fibre artists and may be purchased HERE.
Included is a short chapter "What is Fibre Art?" to address what the difference between Textile and Fibre Art may be.
We know you will agree that we have a thriving, talented community of contemporary fibre artists here in Australia and it is wonderful that we have a new opportunity through which to showcase their talent.
We are looking forward to the next AFAA in 2023 – planning is under way, so keep an eye out on the Facebook page and the website page.
Thank you to our sponsors for the AFAA 2021:

ArtWear Publications Pty Ltd
Publishers of Australia's own well respected craft and lifestyle magazines: Embellish, Felt, Yarn, Textile Fibre Forum and Vintage Made.

The Embroiderers' Guild NSW Inc.
Encouraging the art of embroidery with a high standard of design and technique, the 'Guild' is a not-for-profit membership body for anyone and everyone who loves to stitch or would love to learn. People of all ages and walks of life join the Guild for all sorts of reasons: following their creative urge; mastery of a new skill; a love of traditional crafts; memories of learning from family members; the company of like-minded people – just to name a few!
*****************************************************

Gentle Roller Company
The Gentle Roller is a new device for an ancient craft – a wet felt rolling machine invented for fibre artists of the 21st Century. It is a break-through in the exhausting and repetitive process of hand rolling, helping you to create better felt or nuno felt — without hard work. The Gentle Roller has a patented oscillating (forward and backward) action, replicating the action of hand rolling. This compact, safe, and attractive tool will complement your studio and work quietly beside you, freeing you for more important activities like planning your next piece or enjoying a well-earned break.
*****************************************************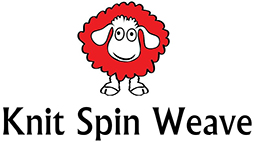 Knit Spin Weave
*****************************************************
*****************************************************
Marlyn Alpaca
Snowy Creek Engineering
The Thread Studio