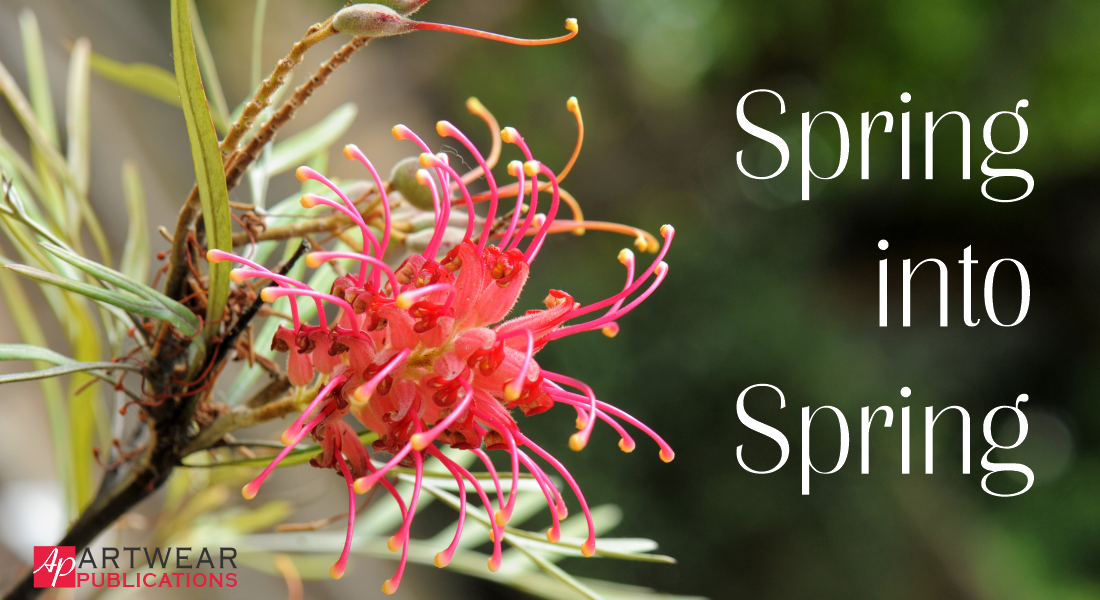 01 Sep

Spring into Spring!

Spring has sprung and with it our creativity!

We have some great suggestions here for you – to inspire you and get you creating ♥ Click on the links coloured red!

We'll add to them as more ideas, products and offers come in, so keep checking back ☺

To start with, have you checked out the FREE tab on our website? Along with videos, articles and a stitch guide, there are also free projects such as these fun felt flowers. Just right for Spring! Click here for the projects.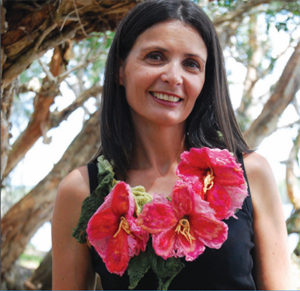 The annual Embroiderers Guild Victoria members exhibition, Saturday 8 October to Sunday 23 October, is an opportunity to see some of the best embroidery in Victoria. The theme, Threading a Way, is an invitation to members to create original embroideries, along with traditional pieces of work. The Challenge this year is Ways with Silk, small original pieces that will showcase using silk in embroidery. Many of the works will be for sale. There will be demonstrations each day and a gift store with exquisite embroidered items for sale.
Open daily from 10am to 4pm, come along and enjoy a sumptuous visual feast at 170 Wattletree Road, Malvern.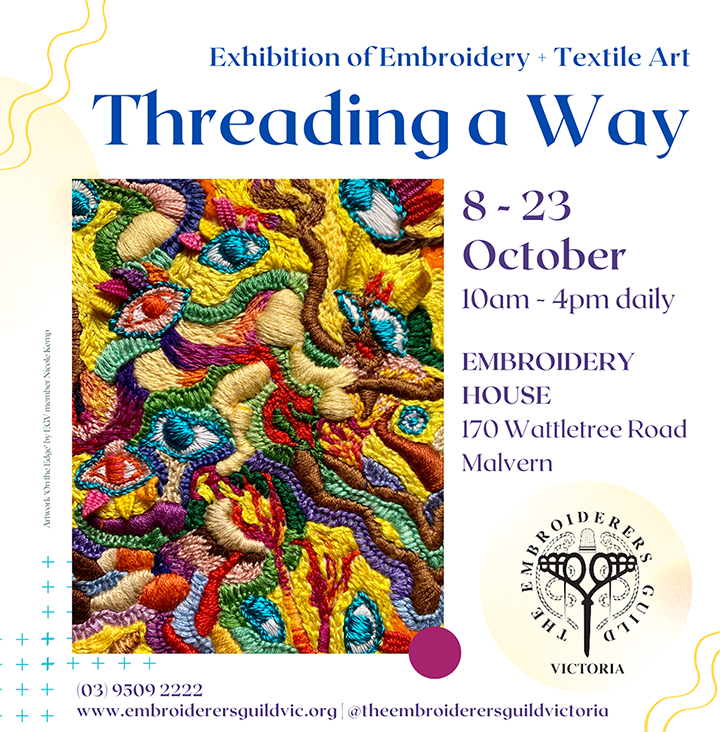 Quirky wicker bags for the truly ridiculous.
Home of unique and irreverent wicker handbags featuring a menagerie of quirky characters in limited-edition numbers.
Handmade using traditional craftsmanship techniques, each of our designer wicker bags is a celebration of fun and fabulous fashion!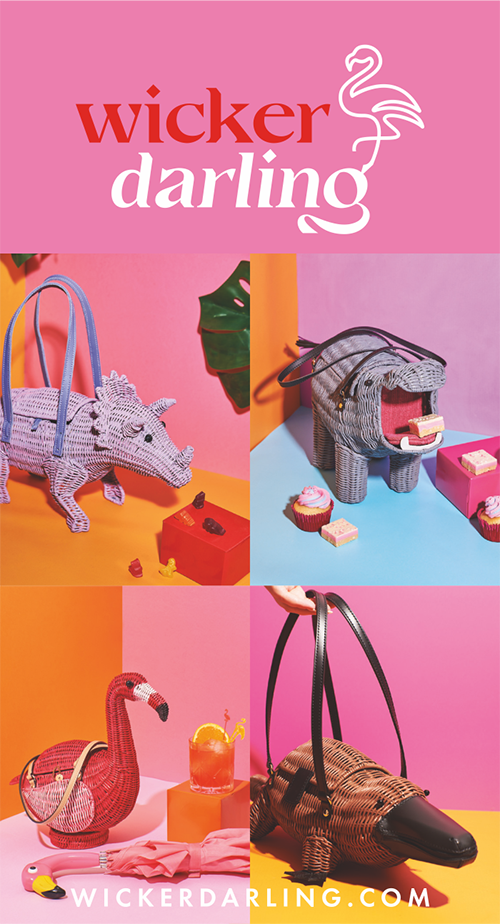 Thank you for following my creative journey through my projects in Embellish magazine. Now it's time for you to spring into fabric designing, simply and sustainably. Our Liquid Colouring Pack will get your creativity under way – nine pure pigment colour concentrates from which you can mix any colour imaginable. Just add water – sometimes lots of water – to dilute them from bold and bright to soft and subtle! Then our special bonus offer will take you even further.
Spring into Spring Offer: Buy the Liquid Colouring Pack at the regular price of $165.00 and we'll include a BONUS PACK of goodies (value $46.80) to extend your skills into traditional silk painting and more.
PACK CONTAINS: All nine Liquid Radiance colour concentrates, plus dropper caps so you don't waste them, 10 dispenser bottles for diluting the colours with water, plus "Fabulous Fabrics", a handbook of instructions for fabric designing. (Total value of contents over $174.00)
FREE Bonus Pack contains: Water Soluble Resist, our unique Gloss, two applicator bottles for mixing coloured resists for silk painting, and an extra Liquid Radiance Yellow – we use lots of this when mixing other colours – plus "Sensational Silk" handbook. (Value of bonus pack $46.80)
To order, phone or email Anne at Genesis Creations. Quote GEN922 to receive bonus pack. Offer ends 31st December 2022.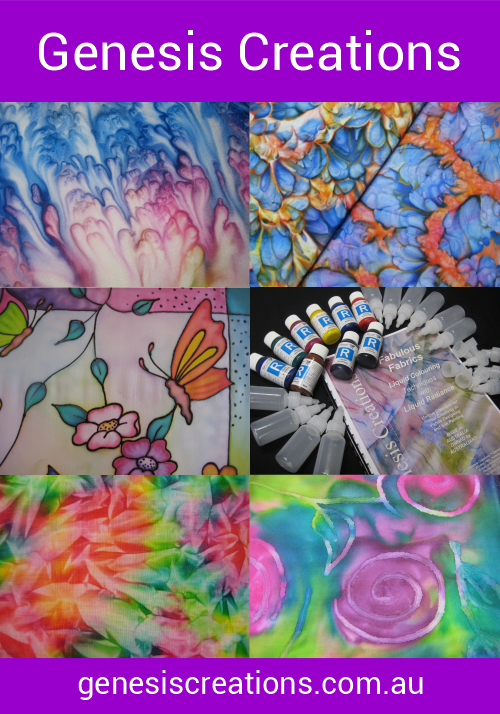 Half Year Membership Fees: Reduced membership fees from 31st August 2022. Now's the perfect time to join us! See our website for more details.
Stacks of Stash Market: Tuesday 1st November at Embroidery House, Malvern. Loads of bargains – priced to clear.
November Open Sit 'n' Sew: Wednesday 30th November at Embroidery House, Malvern. Guild members and public – all welcome.
Summer School 2023: Lots of summer classes, all skill levels – schedule released soon on our website.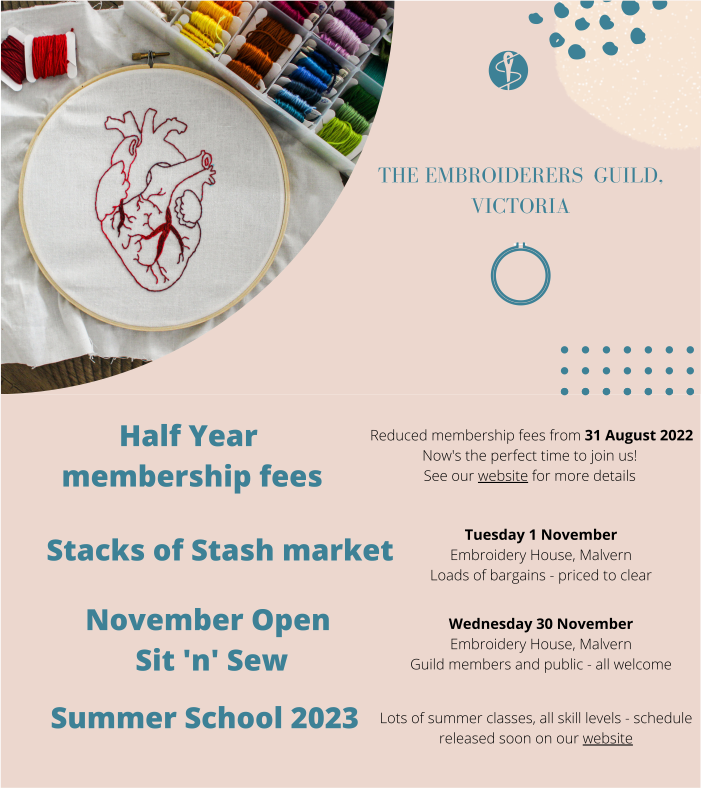 Paul and Christine have plenty of needle felting tools for you and your projects – lightweight and easy to use!
Their Multi Needle and the Single Needle Felting Tools have proven to be very popular with Craft Felters, Textile and Fibre Artists, Schools, and Craft Tutors.
These tools suit both beginner and experienced crafts people and reduce fatigue while providing a more accurate and superior product for the user.

THE GENTLE ROLLER – WET FELT ROLLING MACHINE : The Gentle Roller is every felt maker's friend; assisting you to make beautiful felt without hand rolling.
It is safe, effective and suitable for the novice or fibre artist – whatever felt you make.
It gives you more time to be creative, plan your next piece or enjoy a well-earned break while it does the hard work.
Reward yourself this Christmas. Check the website for special offers during November and December.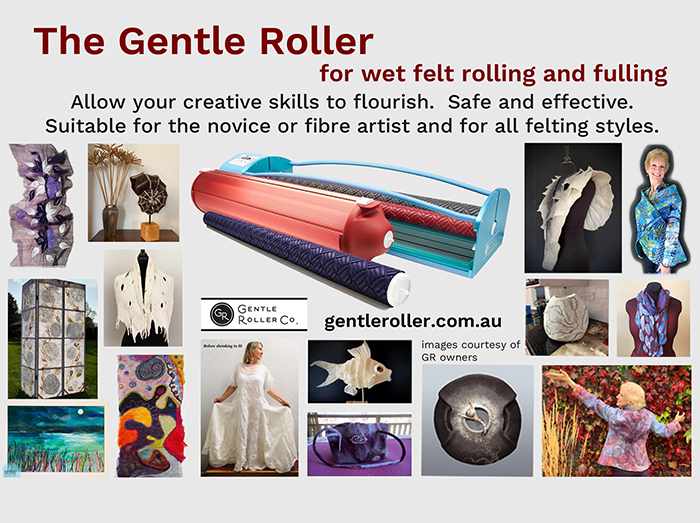 Keep checking back as we add more items as information comes to hand ☺